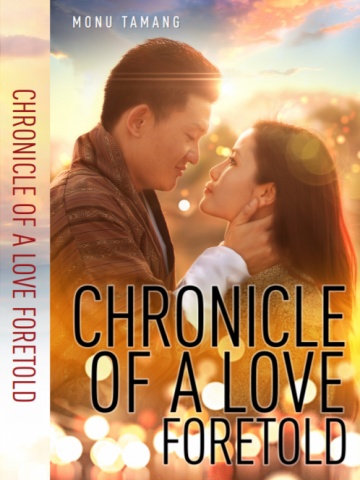 Book Overview
Brought up by a single mother, Kinga Lhendup's life is blighted by devastating consequences of neglect and a chain of mental roadblocks. Once in a while, a man comes into a woman's life like a breath of fresh air and promises her the world. And once he 'blesses' her with his progeny, he disappears without a trace. Is this so-called fate or the man's doing? Is he bestowed with options to choose his own fate? Having lived the consequences of 'true love', Kinga believes that the so-called 'true love' exists only in movies and books. He learns this the hard way from a man who could have been his 'father'. But when he meets beautiful Namsa Lhazin who is engaged to someone, a series of dramatic events unfolds – breaking many hearts in the process – as they realign their fate and submit to their hearts. However, nothing is written on stone and, consequently, they are divided by a big chasm. What does it take to mend relationships? Chronicle of a Love Foretold is a story of fragile individuals torn between rigid social mores and unyielding human emotions. It is a narrative of how individuals experience agonising moments owing to their unwillingness to accept their mistakes and apologise. As the story unravels, the protagonists discover an open secret to healing deep scars.
---
---
Customer Reviews (10)
---
A very interesting book and I Loved it ?
---
Chronicle of a love foretold is a book that speaks how far love is true, obstacles and obligations are the other ingredients to make the love even stronger. A love story which every young mind should read once as it resembles our lovely days with our couples when other necessary or unnecessary obligations interfere in-between. I have read it. Now, it's your turn if ever you haven't read it till now. Happy Reading
---
An emotionally engaging romantic book which captures real life experiences, for those who are new love birds this book could give you the sense of how it will be. ENJOYED!!
---
This book made me feel pinch of love. This book is amazing this book tells huge massage to youth and also to maintain our good habits .
And I was the one who never liked love story but this story made me feel so amazing and attractive towards love storys, i can't explain how much I loved this book.... It was so amazing every word used was so understandable.

This kind of books can change the mind of those people who don't have faith in love❤?
---
This is the first and last novel which I can read again and again. I really love this novel. The words are understandable and it is beautifully written. The concept of love is expressed so nicely. I usually don't get attached to love stories before but after reading this it made more attached to love stories written by Bhutanese writer ?.
---
This is awesome ! At first I thought it would be boring ,but I really love it . I red this like 6 times now and I am still not sick of it ! ?
I would recommend this book to those who loves , lovestory and betrayal .
---
"Chronicle of a love foretold"is a love story amazingly written by one of the finest writers of Bhutan,Monu Tamang.I'm a proud reader to say that I have read this book more than three times,not because I didnt understand it but it was because I loved that book so much that I use to avoid my meals just to finish that book??Its a book that I can read it over again and again.The book talks about Kinga and Namsa's love.Lots of difficulties and problems were on their way to life,however their love for each other, over came all those challenges.
Please do read?
---
We once asked him if the story is his true story because it is deeply beautiful, lyrical and magical romantic narrative.
It's deserves to be best read so much as it deserves best of the praise.
---
This is the book I read twice. It was once when I was in grade twelve I was very curious to read bhutanese romance fiction but after I finished college I thought it is too relatable to college life and I read it again and the memories came so fresh. Wonderfully crafted with embedded emotions.
---
When I flipped the pages of this book, some moments of my college days started getting unearthed one by one. I was at times laughing hysterically remembering my follies and also feeling proud realizing how much memories I have that are actually worth to be cherished.
But it doesn't contain only about how narrator has proposed a girl, bunked classes, teased girls, boozed, went for walks, terrorized warden and tried unimaginable things from first page to last page. It's a sensible journey of a college graduate narrated in two-time dimensions; present and past. As you follow his treads, you will be presented with various social problems that are prevalent in Bhutan as well as in other countries.
My curiosity started building up as I go on turning every page with my own presumed plots. But at the end, I was stabbed with a sudden change in the plot. When did a re-conciliatory conjuring of the whole plot in the end, I was in awe feeling apologetic instinctively for the time I have judged Dasho Lhakpa and Namsa.
I would say Chronicle of a Love Foretold is a moving story written with conversational eloquence. There are few medical procedures and physiotherapy terms. But the author has presented in simple manner as to be understood by all levels of readers.