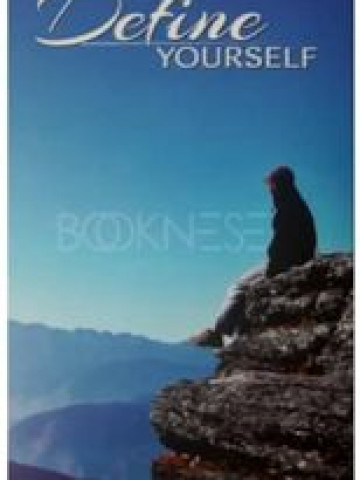 Define Yourself
| | |
| --- | --- |
| Published In: | 2019 |
| ISBN: | 978-99980-902-0-0 |
| Category: | |
| No. of Pages: | 164 |
Book Overview
'Define Yourself' is not a philosophical treatise. It is a collection of the pearls of wisdom bestowed upon the author by his late father. The author has meticulously described how his father's advice had a great impact on him. His father taught that school is not the only source of education, as many believe. Education goes far beyond the four walls of the classroom. His father's life experiences had become a formidable source of knowledge for the author. This book presents a series of advice and knowledge father imparted to his son.
---
---
Customer Reviews (18)
---
It is a good read as it is genuinely based on Author's life as a young boy and the lessons he learnt from his father, family, friends and the people he met. It is the story of almost every Bhutanese.
---
A very heartwarming read as it was a story of a very ordinary boy in his teenage years learning the best lessons from his father and the people he met. I could very much resonate with the author's writing since the lessons it portrayed had reached me at some point though through different routes. It was very refreshing to read as a Bhutanese for this book had Bhutanese values engraved in it. The stories which most Bhutanese would have experienced but at the same time would not have contemplated. The experiences were very common however had greater meanings to extract. Through the read, it brought to me the importance of the present moment and making the best out of what we have. The indispensable truth of having a purpose in life and working towards achieving it.
---
It was worth reading and I loved the book very much.
---
Define yourself, from the title itself, it talks whole of the inside story. It's such an amazing Novel where culture and advice are intertwined in such a way that either every chapter provides advice or a Bhutanese cultural display. I have read it and I liked it a lot. This novel is yet another one of the best novels I have read so far. This surely deserves a recommendation to read by every Bhutanese. Happy Reading
---
define yourself is an extraordinary record of the writer, the story mainly talks about relation between a father and his son, those who advice effectively wield soft influence they shape important decisions while empowering others to act, the author learns a lot though his father advice, i really loved this story go read if you haven't already I'd strongly recommend it
---
Everything starts with family love and ends with the same. Dechen Wangchuk's book reaffirms the vitality of family love and friendship as scared channel for imparting values and wisdoms.
Read for further details. The book presents simple yet profound truth of life.
---
First of all I would like to thank the author for giving us an opportunity to read this masterpiece. I would like to recommend all the youths to read this books as it shows us the values which most of us have forgotten now and the story whole self is so interesting and beautiful too. It taught me that inorder to have a brighter future we should have someone who give us every small advise. It also encouraged me to learn more about our culture and traditions. Once again thank you for coming up with such a beautiful story. Waiting for the next book la?
---
I truly loved reading this book. The story is heart-touching and the author lets you guess about what will happen next with suspenses. At the end of the book, I wanted to keep reading! I would recommend this book to anyone who values family and invaluable lessons especially to young students like me. It truly set a good impact on my mind and my heart!
---
I recommend this book to everyone espically young boys and girls.
If we want to be something in future we need the advice of a good parents.
The author learns from his parents advice.
All the advice were translated from Dzongkha to english.
A sucessful man have a good advisor that is their parents.

It will let us imagine the situation of the author . Its valuable novel.

You are you and no one can match you.
— Define yourself
---
I highly recommend this book "Define yourself " by Dechen Wangchuk because it is a book that demonstrates how important minor details are in life. It is a novel that taught me to be grateful for and respect every tiny aspect in life, from the culture that protects our independence to the precious tie that exists between a father and a son. It's a story that perfectly reflects the beauty of culture, love, life, and family and friend relationships. This book also discusses people's lives and cultures. The customs of the Kheng region in Zhemgang district have been thoroughly enshrined in this book, which clearly communicates to the world that Bhutan has a diverse culture.
---
This book "Define Yourself" truly connects me with the tradition and culture is Bhutan. Especially, with the kheng culture. Myself being from kheng can really relate to the content of the novel. In addition, from this novel I can understand about a father's love toward his child. The father gives advices to his son and tries to impart good values. The thing that really made me attracted towards this book was the hook, where the author starts the novel by saying that "your name doesn't define you.....", it made me curious to read more and eventually finish up reading the novel. So, I really liked the way the novel was started and for me it was like a magnet that attracted me to read this piece of art. This book also gives us a mixture of feeling as we read through the chapters and these feelings are quite interesting and fun. Therefore, I encourage others to try this book as it has a strong message to convey and also it is an interesting write up.
---
Define yourself is a novel which can make you imagine the future and about the things differently. It taught me about the small thing which is necessary for our life. Such like work should be done through parent's advices. If you read the book as it was catchy story it will surely catches your mind and it could change the mind too. So I recommended everyone to read this book.
---
"Define yourself" is a book that shows small things in life matter.. It is a book that taught me to be grateful about and value every little detail in life, be it the culture that is safeguarding our independence to the beautiful bond a father and a son shares.It is a story that truly captures the beauty of culture, love, life and relations with family and friends. Though there are uncertainties in life, this book shows that we can still navigate our life towards the directions provided by our loved ones. It is a must read for people seeking condolences and motivation to move on with life. All in all, it is a wonderful story about life.
---
A book "Define Yourself" is written by Dechen Wangchuk who currently stays in Thimphu. In his book,he have included all the human values and I am really glad that I got to open up this book which made me realize how important it is for a person to possess those.
I really love this book alot. It made me feel more matured and made me realize that there is no one who can match me either mentally nor emotionally.
I must say amongst those books which I have read by the bhutanese authors,this book had been my motivation and inspiration to be who I really am. I must say,I am changed and improved alot mentally because of this book. This book helped me to be who I am,helped me to move on,and helped me to be a good citizen of Bhutan. Thank you so much to Author Dechen Wangchuk who has been a great teacher and I am really lucky to say that it is through his advice and inspirational saying that I feel proud to say what I want to become and why I should feel proud of being myself.

Whoever is reading this,I want to say that please do read this book,after you read this,I guarantee that you will get absorbed in each and every words he have putted in his book to help us realize the positive things of our life. Please do support and read this book. It will help you all alot like it did to me. Thank you once again. We will be waiting for your next book la. All the best. Thank you for publishing this kind of meaningful book that I must say majority of us are inspired. ?


About the book:
In this book,a boy called Tshewang gets to know the true meaning of being who he really is. His father plays a vital role in grooming him and makes his son realizes the fact that our name does not really define who we really are. Tshewang gets to know what life really means through his role model,Father.
But when Tshewang receives a call saying that his father is seriously ill,he rushes to hospital but sadly his father was no longer to see his son. This novel mainly talks about the relationship between a son and a father. It conveys a messages about the importance of our culture, traditions and values.
I still feel really sad about the ending but I pray for his father's rebirth and his soul to be in peace. Thank you and it was also a heart touching novel. Please do read this,it includes all the kind of memories and events that will make you all feel good and meaningful to be who you really are. This book can help you to move on to your dreams. Stay safe. Takecare
---
The book "Define Yourself" is about a father who imparts so many human values to his son. The father is trying to guide his son in the right direction in life all the time, whenever it is possible. This book also talks about lives and culture. The cultures of Kheng region in Zhemgang district are meticulously inscribed in this book where it clearly conveys messages to the world that we have rich culture in Bhutan.
Many of the people have a believe that school is the only place to gain education in our life but in this book, the father of a protagonist taught his son that education goes beyond four walls of classroom.
One day while they were journeying to some other place, a father taught his son how to define himself in the world and how to live gracefully. Tshewang, a protagonist understands the purpose of his life thereafter.
After nine years, while Tshewang was pursuing his master's degree, he got a call saying that his father was in critical condition. Soon after his exams, he rushed to the hospital to pay visit to the greatest hero of his life. After few days, his father bid final adieu to the world. Even after the demise of his father, Tshewang still cherished the wisdom passed down by his father and the memories he had with his father.
The book "Define Yourself" is really a wonderful literature that clearly inscribed the Bhutanese values. I would recommend this book to all the readers as it not only reflect the Bhutanese values but also is rich in literature.
---
Define yourself is a book which talks about our lives and culture. It is also a collection of wisdom which the author got from his late dad.

The main character Tshewang Chogyal is a student who was with his family for the vacation. In the first chapter he has a strange dream in which he saw a man who asked him who he was. Tshewang said his name however the man was not wanting that answer and said 'your name is not you' which confused Tshewang. But before he could ask how he was woken up by his mom.

When waking up his dad gave him a small lecture on how immature he is being at his age and that he is not taking responsibility for his age. His father also points out that Tshewang wakes up late, doesn't know much about the cultures and that he is usually on his phone. After his father's a bit un-pleasing lecture his mother hands him his Ket-Tshi which stated that he was going to be a man with great knowledge and wealth. He then questioned himself on how he was going to do that.

Things didn't go very bad after that. But one night in Darkphel his father taught him how to define himself in the world. Tshewang thereafter understood the purpose of his life. Nine years later, Tshewang who was then studying for his masters received a call which said that his father was in a bad state. After taking his exams he visited his father just to see that he didn't have much time left. His father soon leaves the world. Even after his father's death Tshewang still cherished the wisdom and memories shared with his father.
- Dolkar Rigden Lhamo. Class 8. Choekhorling Middle Secondary School, Sarpang Dzongkhag.
---
This book mainly talks about a relation between a father and his son. In the story, his father guide him throughout the life, advising him upon very little things like starting his day or his attachment with is phone. His father always guided him.
In one time the protagonist and his father spends their night at a place call Darkphel. There his father teaches him about defining himself in the world. Tshewang thereafter understands his purpose of life.

after nine years, things wasn't seems to hold still, Tshewang was now studying for his masters degree.
one night, he receives a call saying that his father was in emergency state. After his exam; he pay a visit and finds that his father was in serious condition.
His father didn't last long and finally he dies. Even after the death of his father he still cherish the good time and values that he got out from him.
- Pema Dolkar
10 'C'
Tashidingkha central school(Punakha)
---
Define yourself is the story of a Bhutanese family, of young love, of friendship, of the timeless advice that a father imparts on his son. The son asks, "Apa what is the single best thing in life." The father replies "Define yourself every moment of yourself every moment of your life." The boy doesn't get anything. The learns that define is a state of meaning in school. With courage he asks his father, "Apa does my name define me." The father replies " Your name does not define you the values and attitudes you learn in life, that defines you." Then the father says nonchalantly "Live gracefully and die peacefully, the boy gawped. Define yourself is honestly a wonderful peice of literature that captures some universal truths. So friends, the values and attitudes you learn in life will define you. Read this book if you can't define yourself. Reviewd and summbited by (Devya Subedi Class 6, Peljorling Higher Secondary School)
Books From Related Categories