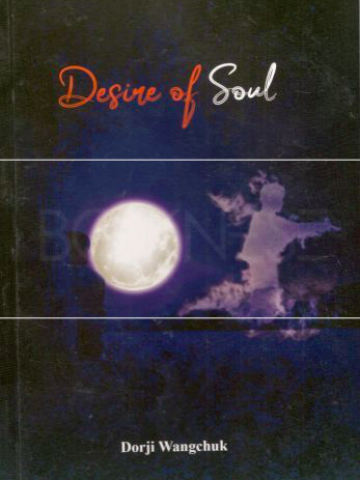 Desire of soul
| | |
| --- | --- |
| Published In: | 2021 |
| ISBN: | 978 99980 999 0 6 |
| Category: | |
| No. of Pages: | 102 |
Book Overview
Rabsel was without any direction in his life. He did't find any meaning in his survival. Accidentally he had unplanned conservation with his friend's classmate and strange love between them flourished as time passed. strange, that two of them never saw each other face. Things took an ugly turn when they saw each other and their relationship was at stake. Was the love meant only for good looking and wealthy?
---
---
Customer Reviews (13)
---
This book was very beautiful they way it's is written it's just beautiful they book is very much related to what's happening nowadays I personally didn't like what the girl did to him I thought he will end up with her but no but it is good in a Way maybe destiny was planning something better for him which a unexpected person like a unexpected angel came and changed everything in his life and yeah that's a happy ending really enjoyed it ?
---
I am rating 5 of 5 star for this book, Desire of soul written by a young author Dorji Wangchuk. Written in simple language and words with effective lines and meanings of life that we are going through in this twenty first century. I really love this book and most of all I liked the character Rabsel. I am waiting for next more books to read from the same author wish all the best in your Future. Every youth must read this beautiful book Desire of soul.
---
I am really much in love with your novel.Best wishes ahead. Waiting for your second novel.
---
I didn't thought Dorji Wangchuk has this hidden talent in school days. You were one of the good student I know but I didn't knew you have a talent in writing. I am really happy to get an opportunity to read your first novel which have touched the heart of many readers. I really loved your book, Desire of soul which took me through the digital age that we are leaving in. You have truely written what's happening around the world. Where young peoples fall in love through types of social media and every couples who meets online aren't made for each other. At the end they land up in thick soup. Your novel gave me a great lesson that we are facing in our daily life. Eagerly waiting for your second novel.Every Bhutanese, specially youth must read this book. So they can be aware from social media.
---
One of the best I read. As it take us through 21st century which our youth today are going through.Waiting for your next book.
---
Best book I ever read, I love the flow of its story and the word comprises is simple that everyone can read. Even the combination of every word will be difficult to describe the book that contains so many knowledge and lessons that I have gained reading this book. It's really interesting.Dear author, I am eagerly waiting for your next book.
---
One of the best book I have ever read. Story got smooth flow with mixed truth and pain. It's based describe the twenty first century which everyone of us must have experience through social media app Facebook.You all must read this book, I rate it five stars.
---
It's my first book. Help me to write more in future by dropping your honest opinion.
---
Desire of soul is one of the my best book that I have read till date. An author take you through a journey of digital age that we the youth of today have experienced in our lives.The main character Rabsal was in dream to be in love and to be loved by a girl. So he had a unplanned conversation with his friend Pancha's friend Yeshey. But stroy take an ugly turning when they saw each other in real. That everyone of us have faced in real.This novel is written in very simple words that can understand by every age. This story got smoth flow mixed truth and pain everyone of us has faced this situation. Ever youth most read this book to know about your own desire of soul.I really enjoyed reading this book. I love this book so much.
---
Desire of soul by Dorji Wangchuk who completed class 12 in 2020. Desire of soul is a heart touching novel which takes you through a journey of love between two young girl Yeshey and a boy called Rabsal.This book is based on 21 century how our young youths fall in love through social media app called Facebook.Is a very true story every one of us has experienced in our life.All the young youth must read this book to know about how our desire are over take without knowing each other but we fall in love.I have no regret spending my 270 to purchase this book.I arched all the young Bhutanese youth must read this book and you won't regret spending your time and money buying this book.
---
One of the most interesting book I ever read till date.Every readers must read this book once. You know what actually desires means by reading this book.
---
Here comes the short review of the book, Desires of soul by young author Dorji Wangchuk. This story reflects the sequence of incidents in Rabsel's life and how he regained his true love finally. It's a heartening tale of love, pain, lies and emotions.It has been past only a week publishing this book if you are interested to grab a copy do comment down la. It's my first venture as an author and hope all will like and enjoy it. I will give you a hundred percent guarantee that you won't regret buying this book.It's such a great book written in a simple language. Everyone of you must read this book.
---
To all enthusiastic literature lovers,I bring this novelette titled "Desire of Soul", a book of 3 hours of a one-sit reading for a slow reader like me. It costs only Nu. 270. Love as the desire of soul is what the book intends to portray. It unfurls a contemporary or a digitalized love getting nourished or weakened, consolidated or broken via calls and texts. Every youth shall find oneself in the book nostalgically. The author, a plus 2 graduate, Mr. Dorji Wangchuk has used a language that can aptly be read and understood by people of all walks of life; primary to tertiary students, out of school youth, civil servants, retired and business personnel etc.. Order a copy of this novelette to farther extract; the exposition of love, its beautiful settings, episodic images, a well built plot, heart thudding climax, how the endured agony of love has been resolved and repainted, and a transitional denouement which shall give rise to the author's second book.
Books From Related Categories