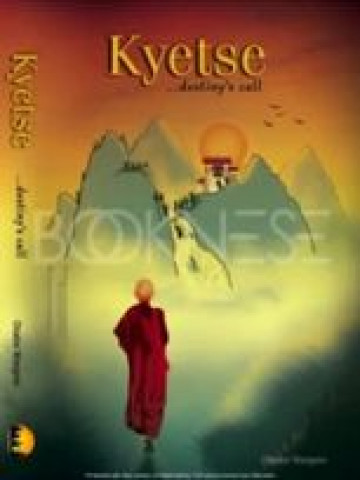 Kyetse
| | |
| --- | --- |
| Published In: | 2016 |
| ISBN: | 9789993673309 |
| Category: | |
| No. of Pages: | 304 |
Book Overview
What define's life's purpose? Is it a predestined path? Or a path we pave with our understanding of life? A riveting tale of SomDema, a girl born in a time rife with superstitious beliefs and her journey into herself and her life.
---
---
Customer Reviews (9)
---
Worth reading! I loved how it was set in a familiar community.
---
This book has been simultaneously heart-warming and heart-wrenching from beginning till the end. It gives a raw perception of reality in Bhutan, and it provides ditto experience of being a Bhutanese. It really comes down to how strong your faith in religion is, can you differentiate it from the fakes?
---
Thank you for this beautiful book.
---
Kyetse, written by Chador Wangmo is a fictional story about a girl named Sonam Dema. Her kyetse says that she would encounter great distractions in her life when she attains the age of 8 and 18. As per her kyetse, she encounters distractions in her life and she wasn't the type to give up. She escapes the obstacles in her life and she joins as a nun and keeps the justice maintained on what happened to her and her friends and then the story ends with her heart awakened in the truest sense
---
Kyetse was written by Chador Wangmo who is also the inspiring writer of La Ama. Kyetse is a highly emotional fictional story that tells us about how a young brave girl called Sonam Dema embarked on her per destined journey of life. She was born in the eastern part of the country that was filled with superstitious beliefs. Her khetse defines her life that she would encounter her greatest distraction when she attains the age of 8 and 18 and the only solution for that is to take the path of spirituality. She embraced her cheerful childhood days with one of her jovial friends called Pentang, whom she spent of her time in craving those beautiful memories in between the mournful days. Out of the blue, her happiness was shattered when life begins to unroll their unforeseen prophecy that is when she lost her mother at the age of 8.

In between the rush of time, she was sent to join the nun to take the path of spirituality, but she became one the victims when her groups of friends who were supposed to join the nun were coerced down by the vicious traitors. Although she was on the verge of tears with no hope to move forward, she was the brave one among all who was able to escape from the excruciating incident. At last she found her true path when she decided to join as a nun where she built her confidence to exhibit the real identity of those traitors to the whole world and the story ends contentedly upon visualization the young and a bold girl walking forward in the rays of hope towards fulfilling her dream.

I would recommend all those inspiring readers to read this beautiful piece of my collection because after reading this book, a sense of enthusiasm develops at the back of our mind reminding us that everything in life is uncertain, we cannot predict what will happen next until we experience ourselves. In a net shell, I can conclude that we have to be strong enough to walk away from those that continue to hurt us and have to be brave enough to walk along until we find our true path.
---
Kyetse is a tale about Sonam Dema who was born in the Eastern part of Bhutan who lead a happy life with her family and her only friend Pentang until fate took her mother when she was 8 years old. After her mother passed away she fell very ill. The tsip told her that the only way for her to recover is to take the path of spirituality. Therefore her family had arranged her to go to a Dratshang with four other girls including her friend Pentang with an unknown anim. They changed locations every now and then until they reach a place they had never seen or heard of. Day by day the anim became stricter to them. After a year had passed since they reached, two girls were taken away including Pentang. But they didn't question since they knew that it would be a harsh reply. After a month of the incident, Sonam Dema is to be taken but when the anim is not around she runs away with a kind man who took her back to her village. After she reached her village she went to work in a hotel but after three years of working in the hotel she wished to practice the real teachings of Lord Buddha. And when she told her family about it they sent her to a goenpa in the western part of Bhutan. It had been three years since she practiced the teachings of Lord Buddha. One day when the anims of the goenpa were watching television she is shocked to see that the anim who took her from her village was a fake anim. This fake anim not only sold children but also smuggled chortens and if anyone knew anything about her they were to inform it to the Paro police station. But what made her more shocked was when her new friend Kinley Om also got shocked. They asked each other how they knew the fake anim and told their stories. They then went to the head of the goenpa (the lama) and told their stories in tears. The next day Sonam Dema, Kinley Om and the lama went to the Paro police station and they told the police all their information. After they told the information they went back to the goenpa. After two months, the police team arrived and told them that the fake anim and her companions were to be in jail for a life time. Sonam Dema and Kinley Om were rewarded for helping the police and also for chosing the brave path.

The theme of the book is: Don't be afraid to choose the brave path in life because if we choose the brave path then we will not be afraid to choose the right path in life.
---
Kyetse is a story which tells us about a young girl Som Dema embarking on a journey too find the search of an answer to her life. Journey of Som Dema and her friends tell riveting story of splendour and scarcity, beauty and ugliness, curses and blessings in life that either give or take away the beauty of life. She believes that everyone is born to fulfill our life duties assigned to us when we are born. Som Dema to define purpose of her life. Read to deem your curiosity. (Devya Subedi Class 6, Peljorling Higher Secondary School)
---
Is life as linear as foretold in one's Kyetse? What does it take to realise purpose of life? What course does life take?
Journey of Sonam Dema and her friends tell riveting story of splendour and scarcity, beauty and ugliness, curses and blessings in life that either give or take away the beauty of life. Read the story of battles, hopes and hardship taken by Sonam to define purpose of her life.
---
This book is similar to that of Circle of Karma by Kunzang Choden focusing on woman empowerment. It tells about the story of a young girl embarking on a journey to find the search of an answer to her life. She believes that everyone is born to fulfill our life duties assigned to us when we are born. What is her kyetse?

Read to find deem your curiosity.

☺☺☺☺☺
Books From Related Categories