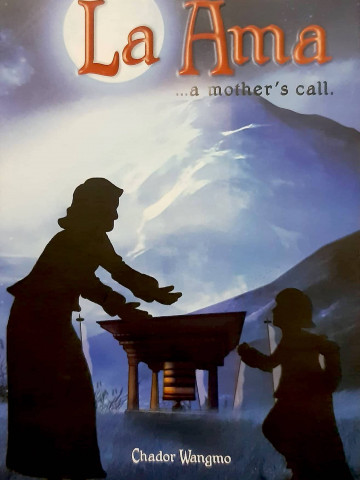 La Ama... a mother's call
Book Overview
One night Dechen Zangmo hastily makes an exit from her two years old home. A broken heart and tortured body puts her one-week-old driving skills to test. Lam! The accident takes her into a spiralling darkness. Will she wake up to a new beginning after the accident? What stories lies enfolded in the deep recess of this unfortunate woman torn by her own parents, family, friends and people whom she encounter in her life. Can this woman build herself over all the broken pieces? Who gives her the ultimate power to stitch up the torn fabric of her life? La Ama is a story of the love of a mother, which conjures up the miracle. This is a story of a woman's journey from a terrible marriage back to the past she had chosen to forget to an awakening future.
---
Customer Reviews
---
La Ama is a story about Dechen who is abandoned by her parents from the very young age. In her so called life she suffer from sexual abuse, domestic violence and broken marriage. It is also about gender equality where in our society we have notion that men are Superior and women are inferior. Women are always considered as sexual device and men as a powerful sex predator. Chador Wangmo did mention about adultery which is very common in our country. "A woman's single act of adultery would be condemned to hell while a man's hundred follies would be condoned as 'a man's nature.' This line pricked my heart and disheartened. In fact, it is a sad truth.
La Ama contains lot of hidden message for us and one should grab a copy to discover it's actually meaning. Please guys spend your money on books to educate yourself.
---
Dark Secrets of our Society
La Ama is perhaps the first book I have read completely in a long time. And the very first book I have finished in on sitting. I am a very slow reader and 198 pages would usually take me over a week but Chador Wangmo has begun her book with a tight knot of suspense and I didn't want to put down until I untied it. Soon I found myself too engaged with Dechen Zangmo and wanted to be by her side until she wakes up.


Chador has invented a unique plot that is strategically woven to fly us across time and places and put us in exactly same state of being as the narrator. Chador's mastery over English language brings out the strong waves of emotions that the story has to offer.

The story is about a girl who is abandoned by her parents and abused by people in whom she places her trust. She has surrendered to her fate and hungry husband, until one day it becomes too much for her. In her attempt to escape from her brutal husband and with nowhere to go she meets with an accident. In that deep unknown space between life and death, she finds herself with her mother putting together the pieces of puzzles from the past and reconnecting with her. She discovers that she has been reliving her mother's mistakes.
"was there any reason to fear the outside world when brutal predators existed within the family walls?" (p.126)
Chador Wangmo has subtly and creatively exposed the secrets hidden behind the closed doors of our society. It's a book every Bhutanese woman must read to find the strength to make right choices at the right time, and it's a book every Bhutanese man must read to ensure that it happens but not as a favour, rather as natural as it should be.
"I wonder if marriage was a union of two souls as it is often said or merely the ownership of one soul over the other." (p.172)
---
Featured Books
These books have just arrived on our shelves