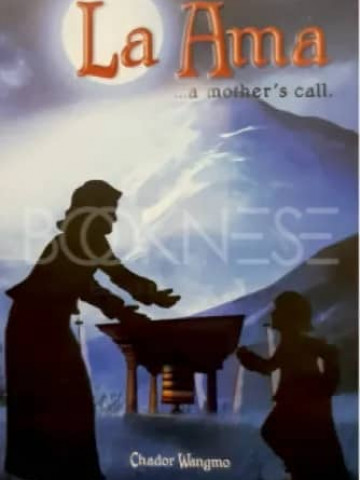 La Ama... a mother's call
| | |
| --- | --- |
| Published In: | 2015 |
| ISBN: | 9789993694427 |
| Category: | |
| No. of Pages: | 198 |
Book Overview
One night Dechen Zangmo hastily makes an exit from her two years old home. A broken heart and tortured body puts her one-week-old driving skills to test. Lam! The accident takes her into a spiralling darkness. Will she wake up to a new beginning after the accident? What stories lies enfolded in the deep recess of this unfortunate woman torn by her own parents, family, friends and people whom she encounter in her life. Can this woman build herself over all the broken pieces? Who gives her the ultimate power to stitch up the torn fabric of her life? La Ama is a story of the love of a mother, which conjures up the miracle. This is a story of a woman's journey from a terrible marriage back to the past she had chosen to forget to an awakening future.
---
---
Customer Reviews (11)
---
La Ama (a mother's call) by Chador Wangmo is a story about one woman's harrowing journey from a terrible marriage to the past which was equally ruthless and to an uplifting future.
It's a story that deals with a lot of difficult themes like Violence, adultery and the recent popular entertainment culture of Drayang. A must read for all the young people out there to gain perspective about how gender quality is still not there in our country and how women are being treated wrong.
---
La Ama by Chador Wangmo.
If a man can't get laid, he is called names by his friends, be it men or women and insult him over his capability or question his manhood. We tend not to re-analyze but directly tend to judge over his sexuality, some of the sensitive cases we might even get sued in first world countries.

Yes, in jeering upon for men who don't get laid or whose manhood is questioned from his teenager days, a man is challenged over his ego. He has more to prove to society than treat a woman well, or he simply forgets to treat a woman well because he has got more to prove and become a man by ill-treating a woman? I guess this is where, we all go wrong. Let men and women be treated equally, then only shall we not have problems of women being suppressed.


La Ama is a very bold and blunt book about the realities that might have or are still happening around the world. I once wrote an article about why above all, women should be educated. We see sexual predators everywhere, not that illiterate women are made preys, but even working women are preyed upon. La Ama reflects about stories when a woman has to be dependent upon someone over her bread and butter. It also states about the social dogmatic stigma for adultery committed by women, and not men.

That has always been there, if a man is a sure goti, which most of the times all of men are, it is a good thing. Men don't hesitate to brag about their sex lives while women are judged over theirs'. Some of the lines I liked from this book were:

What does love really mean? Love isn't always about finding the right person and making love to that person every night. Love connects with the soul of the other person without needing the connetion of the physical body. Maybe that's what he meant by calling me his soul mate!
Only a few women seem capable of ascending to such heights of success. The rest of us just become prey to our emotions yoked down by the love bug that shreds us each day as we struggle to play the role of many avatars. The initial role of lovelorn lady usually results in a further spread of wings to become a spouse and mother later.

Although Bhutan claims to have no disparity between the sexes, the truth is quite different. A woman's single act of adultery would be condemned to hell while a man's hundred follies would be condoned as 'a man's nature.'
The characters in this book don't fall prey to casanovas. They fall prey to sugar daddy rapists. And it does reflect about our society's polygamy nature. Whereby men will always try to evade monogamy. You see, there are two things polygyny and polyandry. Google them, it is interesting.

I liked this book because it doesn't try to butter up any of the tourists or fetch money from them, neither does it try to butter up Bhutanese readers as well. It is a bold book and has no Brand name Bhutan attached to it like few of the writers did in the past. This book surely is written out of writer's passion. And I am passionate about works of people who have the zeal for passion. It does remind us about the follies of our society, bits and bytes of it. Divorce cases, Domestic Violence, Orphaned kids, Pain in ass Relatives, Drayang girls, Night Hunting, etc. You be fool if you think that this is author's true story, we Bhutanese tend to do that. :p And what is a writer? But a person who writes with imagination, makes people see things in different perspectives, trying to bring upon a change for betterment?

By the time when you would be done with the book, I promise you, that you will be flipping pages front and back, trying to analyze the stories well. That you will be amazed and think over Dechen's life, her struggle and her choices.

I suggest this book to our generation ladies, why be gender biased? Gentlmen as well! What say? Ladies and Gentlemen, don't hit discotheques for this weekend, save your entry fees and buy this book. This book will teach you more about relationship and marriage. But just because this book says so, that women are judged and men are not judged over adultery, doesn't mean that everybody should practise adultery. Keep it simple, be faithful. You only live once, why live having remorse?

Let's rate this book as well. Well, everybody knows that a book should not be judged by its cover or quality of papers. But I am doing it so, you know why? Well just say, that I have a vision for Bhutanese authors to hit international market.

1. Cover Design / Paper quality: **** stars
2. Story Content: ***** stars
3. Language : ***** stars
4. Clarity of stories: ***** stars
5. Cost: ***** stars

I give 4.8 stars to this book. Kuch zada hogaya.. :p But that is for you to find and me to know. :) Good day folks, happy reading. Grab a copy.

Oh, and those who have read my blog, I will be sending you one copy each, email me your id or give me your addresses.


What the heck? Go get a copy! You think this is Freaking Oprah's Show? -_- Free copies bleh.
---
This story is about a girl who is abandoned by her parents and everybody just neglect her.One day she meets with an accident when she was running away from a jealous and an abusive husband who treats her as a piece of furniture and she discovers that she has been reliving her mother's mistakes.
---
Characters:
Protagonist: Dechen Zangmo
MAJOR character: Dechen's mother(mrs. Dema), Rinzin, Phuntsho
MINOR character: Dechen Zangmo's father, Daza, Aunty Deki, Dzongkha Lopen, Keza, step father(penjor), aum pem and so on..
SETTING: hospital, in her past, Trashigang, Samtse, Phuntsholing, Thimphu

SUMMARY: This book tells about the story of a girl named Dechen Zangmo who was abandoned by the people on whome she places her hopes and trust. One day wheb she tries to escape from her cruel husband and house which no more gives her peace. On that particular period, she puts a test on her two weeks driving lesson. Though she manages to run away, unfortunately she meets with an accident. However, during that time she was bounded by the past of her life with the present. She felt as if those part of the memories were real and really existed in her life. She could once again relive the live she was striving for, especially with her mother. Then, after lossing her mother for the fourth time and coming back to consciousness she realizes her mistakes and tries to mend it. Further, the news of her being pregnant gave her more strength and motivations to turn herself into strong woman and a mother who can give better life to her child, unlike her own mother. Despite all the sufferings and dissapointments, she lives a happy life with her daughter.

Character i liked:
I liked Dechen Zangmo in the novel because despite being tortured and discriminated by her own people, she never lost her hopes. If it was compared to present day, many Dechen Zangmo's would have lost their life. Moreover, she turned her weakness into strength, seek help from her friends and kept trying, which was captivating character of hers.

The character i DISLIKED: i disliked Dechen Zangmo's father because he being her biological father, he never had time for his children. Instead of giving her love, care and values he was busy building new home. He even left his wife for other woman which resulted negative impact in her life. Beacuse of him even Dechen's mother faced lots of humiliation and due to his carelessness they lost their only son. Only if he hadnt divorce her mother, they all would be living together, also Dechen need to have to leave the place and live with her cousin. Moreover, her brother would still be with her.

The LESSON i got: Whatver we do or whatever decision we make in our life, we need to think thousand times and make wisest decision. This novel even tells us that neither the womens nor the mens should be the dust of their feet, they should work together. Moreover, it tells that societies are there to judge us but it is our mind and heart which makes us pure. Lastly, mens should not treat womens as a toy and also womens shouldnt stay quiet. They should raise their voice and seek for help.
THANK YOU
---
This book "La Ama" is a story of an teenage girl 'Dechen Zangmo' who is abandoned by her parents , met with many accidents on her way and abused by people whom she had trusted.Whatever decision she tooks and wherever she went the things seems to be harder.Her life was like hell,there was no way to escape from it,but without giving up she moved on.Because of her parents departure she loosed her younger brother & got raped by her own teacher ,that forced her to drop our from the school.After marriage also there were no peace she was even abused by her husband(Yenten) and when she knew she's pregnant she leaves her husband for her child's (Syelma) better future & endup living simple
& beautiful life .This book made me realise that life isn't a movie/fairy tale where all the good people gets their rights and happy ending.This book convey many messages and shares "Nothing is greater than parents love" & not to giveup.Though the girl (Dechen Zangmo) was humilated & raped she never gives up where she end up living beautiful life with her 3yrs old daughter.It is indeed a very empowering book for women.I love this book so much ,it made me so emotional while reading but more strong after the completion.I would like to recommend my friends to read this book "La Ama" mother's call, written by Chador Wangmo.This book made my favourite & best author /writter Chador Wangmo.
Thankyou?❣
---
This book made me realise that life isn't a fairy tale where good people get their happy ending. I realsied how naive I was before and how much my parents have protected me from the cruel reality of world. This book is about a young married women where she is abused by her husband because of small misunderstanding and how she couldn't take it and run away resulting in a accident. From here we learn how much she suffered from her parents devorce and on top of that how her teacher that she looks up to rapes her and she isn't even given the justice she deserves instead she has to drop out of school even though it wasn't her fault. How society discriminated against her and her mother being a divorced single mother and how she has to work everywhere for her to make a living and now how her life is same as her mothers, always getting abused by her alcoholic husband. After waking up she realises that she can't be the second person like her mother, always getting a beating and even death could be better than living like this, so after waking up she separates from her husband and moves out and then live a happy life with her 3 year old daughter. My favourite character would obviously be Dechen zangmo because I like her determination in the decision she makes, even if life was cruel to her she was determined to live a live a better life so she separates from her abusive husband. I would recommend this book to all the people out there but especially to women because in our society it is believed that women are beneath men so it is the right for the men to treat the
Women how he like it but I want all the women to know that if she wants to be happy then she has to speak out and learn to resist the violence. Its the women that gives the men courage to abuse her.when he first use violence ,you decided to accept it rather than fight which made him brave to abuse you the second time and there after. So I want all the women to be like Dechen zangmo and learn to fight for her happiness. If I could give anymore star than 5 I would..
#kinley gyelmo (Gelephu HSS)
---
Things seem to be getting harder in Dechen Zangmo's life, the smile she wore had vanished, she wasn't the grain of mustard seed any longer. Her miseries too, seem to be adding more and more when her partner Yenten, doubt to her loyalness to their two years old marriage life. Things become worse when Yenten uses his manly force upon the person, with whom he promised to get grey with, to that person who left her life to be with him.
One night, Dechen Zangmo with her petrified soul makes an exit with her broken trust and tortured body. Her one-week-old driving skills are put to a test, where she fails and encounters an accident taking her to darkness and the flashback starts where she was a child fighting over the flower with her friend Rinzin Zangmo.
The next set of flash-back starts where she hears her mother calling out for her. She answers the call, "Laa..Ama..."
In her unconscious state, her old buried memories arose. The memory of her parents getting divorced, leading her as a victim, the painful memory where she is ostracized and shunned for working in Drayang. She remembers her fortitude self, where she remained brave and faced all the obstacles in life.
She remembers how her teacher had raped her and her mother being discriminated against, for the failure of her first marriage, although the root source of the failure was her father's affair.
Dechen remembered her forlorn lonely self, in the cold nights, sleeping with salty tears, and the most she remembered was the betrayals by her trusted one, the longing hostels years, and her friend Phuntsho.
In that crucial moment, she resembled those delicate bubbles, beautifully formed yet afraid that it might get bust anytime.
As the story nears an end, she found herself in the hospital, and Yenten happily crying that they are soon gonna be parents. However she finds herself in the shoe of her mother and without delay, leaves him.
Now, she had a three years old daughter. Though her income is less, it is sufficient for Syelma's bright future. She then remembers the call of her mother, La..Amma.
Tshering Choden
10
Tashidingkha Central School, Punakha
---
It is a very bold book about the realities of our real way of living that might have or is still happening around the world. La Ama revolves around many themes such as betrayal, domestic violence, trust, gender equality( LGBTQ) and ill-treatment. It reflects about a woman who depends upon someone over her veggies and groceries. It gives a lot of inspiration and empowerment to all the women and this book promotes the importance of feminism as well.

We all know that all women should be educated and should not be ill-treated or abused. As Mahatma Gandhi once said, " if you educate a man you educate an individual, but if you educate a woman you educate an entire family." This book mainly talks about women and from my point of view I think education for women is very important as quoted above.

There shouldn't be any discrimination among ourselves or in another way we shouldn't be biased. In this century we should support each other.
From this book, I learned that we can easily get betrayed and we shouldn't trust someone so easily as their trust could turn out to be a betrayal. It is indeed a very empowering book for women.
---
This book talks about the harsh reality of our life where the power always plays a role in a dirty work. Where only the people with high authority can monitor the other lower people life. It tells about the young girl who have to face the harsh reality in the school and her life.

Though the book try to narrate a story focusing on a strong theme, I feel like the elements and the narration seem bit off and not in the proper arrangement. Time and again readers lose track of the time whether it's telling the past story or in the present state.

?????
---
La Ama," a story by Chador Wangmo seemed like a fairy tale when I first saw the title. As I flipped the pages, I came to know that there is no world of fairy tale but only misery and disharmony. Author has artistically exposed secrets behind the closed door of Bhutanese society. An Author has focused on gender discrimination and male supremacy.
Bhutan claims to have no gender discrimination, but in reality it is not true. Women's single act of adultery is considered as a sin and men's thousand faults are taken into consideration, (Wangmo, 2015, p.76). Everyone believes that man can do anything but woman can't. As I went through each chapter, it reflects the story of my half-sister. Her parent's divorce had led her to mournful life. Her step-father was the additional source of sorrow. "Was there any reason to fear the outside world when brutal predators existed within the family walls?" (Wangmo,2015, p.126). Dechen was brutally raped by her teacher. She did not even get justice. All those notion seems wrong for me because in this 21st century women should not be judged by their sexuality.
In many cases, I have noticed wife being dominated by their husband. This text creatively tells that woman have to depend upon the man, which leads to patriarchal society. she challenged herself to leave his husband rather than always being dominated by him. Happiness gained at the initial of their marriage was just like a fairy tale but later it has made her realize that she was mercilessly abused by her brutal husband.
This society is beyond my understanding, if a girl is with many boys she is consider to be slut. If a boy is with many girls he is just a flirty boy. A home maker who sacrifice life for her family is always introduced as house wife. Text has a hidden meaning that states about struggle faced by every woman. It has lot more to say how women has to challenge the gender inequality in the society. "I'm a woman, the weaker sex, as people call us", (p.195). This line clearly shows that women are always look down by our society. The story ends with the thought of encouragement for women to leave their husband if they are treated like a slaves. I would recommend my friends to read "La Ama, Mother's call written by Chador Wangmo.

Thanks???
---
La Ama is perhaps the first book I have read completely in a long time. And the very first book I have finished in on sitting. I am a very slow reader and 198 pages would usually take me over a week but Chador Wangmo has begun her book with a tight knot of suspense and I didn't want to put down until I untied it. Soon I found myself too engaged with Dechen Zangmo and wanted to be by her side until she wakes up.


Chador has invented a unique plot that is strategically woven to fly us across time and places and put us in exactly same state of being as the narrator. Chador's mastery over English language brings out the strong waves of emotions that the story has to offer.

The story is about a girl who is abandoned by her parents and abused by people in whom she places her trust. She has surrendered to her fate and hungry husband, until one day it becomes too much for her. In her attempt to escape from her brutal husband and with nowhere to go she meets with an accident. In that deep unknown space between life and death, she finds herself with her mother putting together the pieces of puzzles from the past and reconnecting with her. She discovers that she has been reliving her mother's mistakes.
"was there any reason to fear the outside world when brutal predators existed within the family walls?" (p.126)
Chador Wangmo has subtly and creatively exposed the secrets hidden behind the closed doors of our society. It's a book every Bhutanese woman must read to find the strength to make right choices at the right time, and it's a book every Bhutanese man must read to ensure that it happens but not as a favour, rather as natural as it should be.
"I wonder if marriage was a union of two souls as it is often said or merely the ownership of one soul over the other." (p.172)
Books From Related Categories