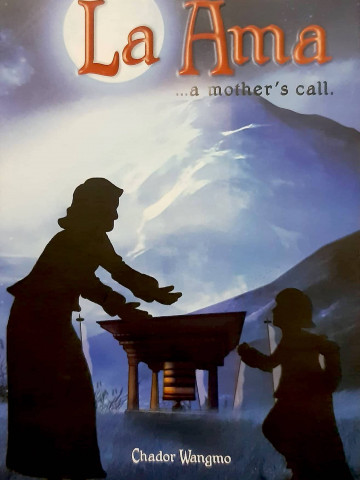 La Ama... a mother's call
| | |
| --- | --- |
| Author: | |
| Published In: | 2015 |
| ISBN: | 9789993694427 |
| Category: | |
| No. of Pages: | 198 |
Book Overview
One night Dechen Zangmo hastily makes an exit from her two years old home. A broken heart and tortured body puts her one-week-old driving skills to test. Lam! The accident takes her into a spiralling darkness. Will she wake up to a new beginning after the accident? What stories lies enfolded in the deep recess of this unfortunate woman torn by her own parents, family, friends and people whom she encounter in her life. Can this woman build herself over all the broken pieces? Who gives her the ultimate power to stitch up the torn fabric of her life? La Ama is a story of the love of a mother, which conjures up the miracle. This is a story of a woman's journey from a terrible marriage back to the past she had chosen to forget to an awakening future.
---
---
Customer Reviews
---
It is a very bold book about the realities of our real way of living that might have or is still happening around the world. La Ama revolves around many themes such as betrayal, domestic violence, trust, gender equality( LGBTQ) and ill-treatment. It reflects about a woman who depends upon someone over her veggies and groceries. It gives a lot of inspiration and empowerment to all the women and this book promotes the importance of feminism as well.

We all know that all women should be educated and should not be ill-treated or abused. As Mahatma Gandhi once said, " if you educate a man you educate an individual, but if you educate a woman you educate an entire family." This book mainly talks about women and from my point of view I think education for women is very important as quoted above.

There shouldn't be any discrimination among ourselves or in another way we shouldn't be biased. In this century we should support each other.
From this book, I learned that we can easily get betrayed and we shouldn't trust someone so easily as their trust could turn out to be a betrayal. It is indeed a very empowering book for women.
---
This book talks about the harsh reality of our life where the power always plays a role in a dirty work. Where only the people with high authority can monitor the other lower people life. It tells about the young girl who have to face the harsh reality in the school and her life.

Though the book try to narrate a story focusing on a strong theme, I feel like the elements and the narration seem bit off and not in the proper arrangement. Time and again readers lose track of the time whether it's telling the past story or in the present state.

😊😊😊😊😊
---
La Ama," a story by Chador Wangmo seemed like a fairy tale when I first saw the title. As I flipped the pages, I came to know that there is no world of fairy tale but only misery and disharmony. Author has artistically exposed secrets behind the closed door of Bhutanese society. An Author has focused on gender discrimination and male supremacy.
Bhutan claims to have no gender discrimination, but in reality it is not true. Women's single act of adultery is considered as a sin and men's thousand faults are taken into consideration, (Wangmo, 2015, p.76). Everyone believes that man can do anything but woman can't. As I went through each chapter, it reflects the story of my half-sister. Her parent's divorce had led her to mournful life. Her step-father was the additional source of sorrow. "Was there any reason to fear the outside world when brutal predators existed within the family walls?" (Wangmo,2015, p.126). Dechen was brutally raped by her teacher. She did not even get justice. All those notion seems wrong for me because in this 21st century women should not be judged by their sexuality.
In many cases, I have noticed wife being dominated by their husband. This text creatively tells that woman have to depend upon the man, which leads to patriarchal society. she challenged herself to leave his husband rather than always being dominated by him. Happiness gained at the initial of their marriage was just like a fairy tale but later it has made her realize that she was mercilessly abused by her brutal husband.
This society is beyond my understanding, if a girl is with many boys she is consider to be slut. If a boy is with many girls he is just a flirty boy. A home maker who sacrifice life for her family is always introduced as house wife. Text has a hidden meaning that states about struggle faced by every woman. It has lot more to say how women has to challenge the gender inequality in the society. "I'm a woman, the weaker sex, as people call us", (p.195). This line clearly shows that women are always look down by our society. The story ends with the thought of encouragement for women to leave their husband if they are treated like a slaves. I would recommend my friends to read "La Ama, Mother's call written by Chador Wangmo.

Thanks🍀🍀🍀
---
La Ama is perhaps the first book I have read completely in a long time. And the very first book I have finished in on sitting. I am a very slow reader and 198 pages would usually take me over a week but Chador Wangmo has begun her book with a tight knot of suspense and I didn't want to put down until I untied it. Soon I found myself too engaged with Dechen Zangmo and wanted to be by her side until she wakes up.


Chador has invented a unique plot that is strategically woven to fly us across time and places and put us in exactly same state of being as the narrator. Chador's mastery over English language brings out the strong waves of emotions that the story has to offer.

The story is about a girl who is abandoned by her parents and abused by people in whom she places her trust. She has surrendered to her fate and hungry husband, until one day it becomes too much for her. In her attempt to escape from her brutal husband and with nowhere to go she meets with an accident. In that deep unknown space between life and death, she finds herself with her mother putting together the pieces of puzzles from the past and reconnecting with her. She discovers that she has been reliving her mother's mistakes.
"was there any reason to fear the outside world when brutal predators existed within the family walls?" (p.126)
Chador Wangmo has subtly and creatively exposed the secrets hidden behind the closed doors of our society. It's a book every Bhutanese woman must read to find the strength to make right choices at the right time, and it's a book every Bhutanese man must read to ensure that it happens but not as a favour, rather as natural as it should be.
"I wonder if marriage was a union of two souls as it is often said or merely the ownership of one soul over the other." (p.172)