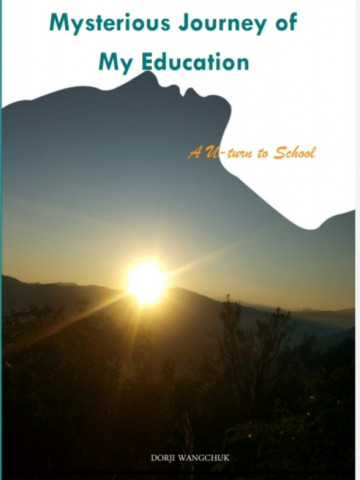 Mysterious Journey of My Education
| | |
| --- | --- |
| Author: | |
| Published In: | 2020 |
| ISBN: | 978-99980-914-0-5 |
| Category: | |
| No. of Pages: | 116 |
Book Overview
This book hopes to inspire the children who are depressed with poverty, troubled with poor parenting, dejected by the community, and crushed by the fear of failure. Moreover, the book anticipates uplifting the spirits of teachers in Bhutan. They deserve the best of the experiences and honor ever known to the mankind.
---
---
Customer Reviews
---
The novel shows the karmatic and destined life,courage and bravery, self realisation and exploitation in the mask of fake identy. whereby a girl born in rural area with superstitious beliefs and her journey into the life.She goes far from her homeland to become a monk(ani) after her mother experies.But!Life tends to be difficult with strange people who usually berates her.Climbing the wall of difficulty she finally returns home with many life experiences and life lessons to be a real Monk (ani).
---
This book contains many information which aims at motivating the youth like us. We can find from the book that he had gone through many research work as various information has been cited in the book written by several eminent writers. This book really helps in broadening our mindset and changing the very outlook that we are having now. The book also tells us how grateful our parents are that we should not take them for granted at any circumstances. So I recommend all the youth as well as adult to go through this book as it is really worth reading.
---
In this book author touches every single steps of his life journey. As we are born under the same sky but with different destiny, our hardship, happiness, family that surrounded you, the society that you lived in. As mentioned in the book, author grew up taking Golden food (Kharang, 'yellowish grain from maize') and lived in small hut with tear and torn out cloths. He live in a society where his world is run by poor parenting and was look down and dejected by community. However, he walk with big dreams. But he never led his dreams to become his master. Whereby, he find his own north star.
I personally recommend this book to today's youth where your world is run by shallow relationships from parents, love, best friends and friends. Moreover, it will be helpful for those who are struggling in finding your north star.
Author- I have faith in you!
Faith is the source of my power!
Waiting for next phase to read....
---
The theme of this juvenile revolves around how poverty matures immature (physically, mentally and psychologically),how poor parenting morphs their child to rich and horizon of the "teachers" has expanded beyond the notion "tutors". Therefore it's interesting non-fictions with mixed auto Siwtch button moods for every readers
---
Energizing and motivational book. Right book for the students like myself. Thank you for a better choice by Bhutanese author
---
This book gives motivation and inspiration to see things more clear. It gives new hope and energy for those who are on the verge of giving up. More importantly it teaches no matter how many times you fall down in your life, never give up, keep focus on your goals and get up every time you fall down. This is the key message I got after reading it. Therefore I would suggest everyone to read this book especially the children who lack parental support and guidance, who are not economically sound and struggling for education.
If I were to grade this book out of 5, no doubt it is 5 out of 5.
Thank you.
---
Sad, funny, inspiring, and satisfactory read. Informative for children. Must read 'for' students
---
As an author, ego shouldn't get better of me but I still enjoy reading this book of mine. The second edition is coming soon