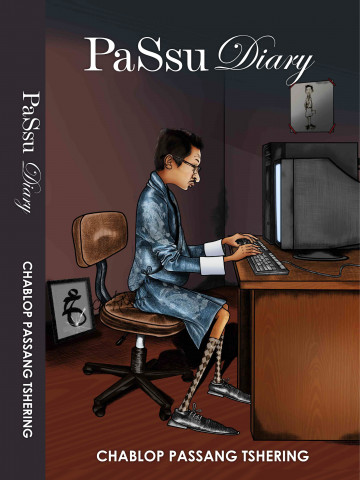 PaSsu Diary: A Journal of an Ordinary Bhutanese
| | |
| --- | --- |
| Author: | |
| Published In: | 2018 |
| ISBN: | 9789993699507 |
| Category: | |
| No. of Pages: | 316 |
Book Overview
PaSsu Diary is a collection of selected blog entries from one of Bhutan's most popular blogs- PaSsu Diary: a journal of an ordinary Bhutanese, spanning over a decade. It is a record of people, places and events surrounding the life of the blogger that every Bhutanese can connect to and relate with.
---
---
Customer Reviews
---
I must say an interesting book to go through!
---
I have read this book and I thoroughly enjoyed reading this beautiful piece. It's collection of Author (Chablop Passang Tshering) blog entries from his popular blogs- PaSsu Diary. It takes down the blogger's memory of the people, places and events in his life. It's also inspirational and motivational.
I would recommend all to read this book one who seeks different level of motivation to blog and I also came across many historical facts.
---
I truly enjoyed reading this Journal of Chablop Passu. It interestingly showcases different episodes which is very much related to our everyday activities and experiences.
Recommended for all people to read it 🙂.
---
The story Passu Diary is written by the founder of Bhutan Toilet Organization (Passang Tshering ) populary known as Chablop Passu .It was published in the year 2018.
summery: it's an inspring journal for everyone around the world .Its about the story of an ordinary boy and achievement in his life .And the people around him . Every Bhutanese can relate their own life story with it.There is also some history about our country which is not even written in Bhutan history
From my point of view everyone must read this book
---
PaSsu Dairy is a collection of selected blog entries from one of the most popular blogs. PaSsu Dairy: a journal of an ordinary Bhutanese, snapping over decade. It is a record of people places, and events surrounding the life of blogger that every Bhutanese can connect to relate with. It is a wonderful collection of stories which everyone can read. My favorite stories from this book are Students in love and Jigmes morning speech. They are very beautiful Stories. Review summbited by (Devya Subedi Class 6, Peljorling Higher Secondary School).
---
PaSsu Dairy is an amazing Journal of an ordinary Bhutanese, spanning over the decade. It is a collection of selected blog entries from one of Bhutan's popular blogs. It is a record of people, places, and events surrounding the life of the blogger that ever Bhutanese can connect to and relate with. One can read these entries in chronological sequence to take long walk down the blogger's Memory Lane or randomly pick a page to reconnect with a particular moment or reflect on some of this random ideas. Some of these stories are widely read and shared, and most of them have gone on to influence and effect changes in the lives of individuals and communities. This has a wonderful collection of stories for children. This book is very interesting enjoyed a great time with it. Review summited by (Devya Subedi Class 6, Peljorling Higher Secondary School)
---
Trust me, this book is hard to keep down or close once you start reading it. One of my favourite book of all time 💚.
---
I am not a voracious reader but rather a clumsy one. I don't know if this is even the correct way to label myself. Many times I stopped halfway or some even after reading the first few pages; maybe the particular book might have been boring for me or I am too lazy to finish the entire book. For many times I start with strong determinations to read till the end but all to my failure. But this PaSsu Diary caught me off-guard and gave me a different story to tell.

Knowing PaSsu Diary.

I first saw the author when he appeared on Nang Ge Tam a few years ago. It was only then I knew about his blog PaSsu Diary. Later I found myself following his social media accounts and loving his blogs. And I could not be happier when I knew his blogs were transforming into a book soon. As a follower on his Facebook page, I could see all the book publishing launching activities and distribution into the book stores sometime in 2018. And a few weeks later after the distribution has happened(from what I saw virtually), my newsfeed was almost brimmed with reviews of PaSsu Diary. Today I wonder if there is any Bhutanese reader who has not read this book. After going through some of the reviews, it instantly gave me a longing to grab one myself. But there was no way I will get one since I was out of the country then and I presume the distribution happened only in the Book stores within the country. I remember checking for the book in a few shopping sites in India but could not find one. So my dream to read PaSsu Diary was cut short then.

After I was back to Thimphu last winter, I sneaked into a few book stores there but it was hard to find PaSsu diary. I even texted the author if the book was available in any of the book stores in Thimphu but he was not sure. To grab one was a reality so far, I thought.

Just a few days before the nationwide lockdown commenced, I moved to my sister's place here in Punakha. Do you know what I encountered here? It was a pity to see PaSsu Diary dusting in the corner. Coincidentally the next day, the lockdown was announced. This was an opportunity waiting to happen. What more perfect time is needed than this to read a book-a book I dreamed to read years ago. A perfect blend.

A Review.

PaSsu Diary is an inspiring and interesting collection of journals by a blogger, which I feel is a must-read for every one of us. The author puts his real-life incidences in a simple yet meaningful narration that even a maiden reader can easily perceive the intended messages. He shares various events that unfold in his journey of life as a son, a teacher, a husband, a father and now a full-time social entrepreneur. For a history enthusiast like myself, he also shares explicitly about some important figures like Terton Sherub Mebar and some less-known but equally important museums of our country, some of which are very unpopular among us. He even shares of the mythical buffalo horn which I have never heard of and this makes myself a fool history enthusiast. These mysteries are just mesmerizing. And I want you to dig out more by yourself.


Discovered PaSsu Diary at a corner
While I loved and enjoyed every bit of those entries in his book, I will share here a few topics that captivated me the most. If there are any wedlock individuals here unable to impress and surprise your partner, I recommend you to flip into Surprise Gift From My Wife. Here he will give you tips based on how he was surprised by his better half. It is about a surprise gift he received on his birthday from his wife and how the gift remained unknown to himself until a few days later. Want to know what the gift was? Grab a copy of PaSsu Diary and give yourself a surprise too. But I assure you it was not a Bouquet of flowers if you have already guessed this.

Are you a student breaking your head unable to decide whether to study for life or for the exam? Or preparing for both appears like a mirage when you have the thickest volumes to cover up just before the next dawn? Because I was one of it once upon a time. I wish I read the book a few years ago when I had a tough time mugging up formulas. Because In this book he will give you answers to all these confusions. I envy the luck of his students. I assume and be content that his students would not have made the mistake like me. "When the time is right, do not sleep on the syllabus. Wake up to lives calling. " I unquote from Out Of Syllabus.

Having shared snippets of his insightful work above, there is no further explanation required why I would finish such a rare book in just two goes. As I satisfactorily and slowly wrap up my review of PaSsu diary, I am just taken aback questioning myself of all the book reviews I have done in my educational journey till now. I am sure none of the reviews came naturally. They were either to impress my teacher or to meet the requirements of moving on to the next grade. But for now, no one has compelled me in doing this review, and I am doubtful if even a single person would read this-but this is all a good book would lead to. Whatsoever, PaSsu Diary is one of a kind.

https://ogyenblog.wordpress.com/2020/09/02/reading-passu-diary/
---
A compelling book that every bhutanese must read.
---
A book full of wonderful and life changing stories. A book who need no review at all. Even a book of reviews won't be possible to describe this wonderful book. I enjoyed fully and I highly recommended everyone one read la.

☺☺☺☺
---
A book full of wonderful and life changing stories. A book who need no review at all. Even a book of reviews won't be possible to describe this wonderful book. I enjoyed fully and I highly recommended everyone one read la.

☺☺☺☺
---
I have been an ardent reader of PaSsu Diary blog for many years, but lost track of it for several years. This book has selected the best articles from the blog and presented it in the chronological order giving a follower like me perfect opportunity to catch up.
---
Dear sir Passang
I am so glad that I read your book.
I read it to my family, throughout the time we were just inspired. There is no word to describe how your journal made us feel. For us it was a history that was not even mentioned in Bhutan history. The Buffalo horn in Daga Dzong was a surprise for us, we have never heard it before.
The bridge in Laya, Dechen's story, toilet for Ama, visit to Lingkana Palace, etc etc.... the whole time it was like we were watching a documentary movie of a famous figure. You are a true hero we have.
We loved you in each page.
Sir, You inspired us, you taught us so many things from passu diary.
We are eagerly waiting for another book of you.
May god bless you and also may you publish another copy ASAP 😊😊😊😊
Thanking you and Lots of love from us
---
PaSsu Diary is a collection of selected blog entries from one of Bhutan's most popular blogs – PaSsu Diary: a journal of an ordinary Bhutanese, spanning over a decade. It is a record of people, places and events surrounding the life of the blogger that every Bhutanese can connect to and relate with.

A must Read book.

Happy reading.
---
Great collections of passu's blog articles
---
PaSsu Diary didn't let me off to Washroom✍ (September 13, 2019)

Laptop is on…word is open…curser is blinking on the blank page like my empty brain. I didn't know what to jot down. Hands are rested on the keyboard and Eyes are still blinking.

Luckly I found PaSsu Diary written by CHABLOP PASSANG TSHERING in my book shelf. It has been almost half a year that i didn't touch a book to upgrade my reading skills. It caught my attention when my few friends came to appear PE exam from Samdrup Jongkhar. My friend karma talked about this book and i intentionally told Jigme to keep here with me only to received a call from Yangchen to send sooner to her.

Anyways my new start of reading for 2019 is not bad. After responding a call i flipped over the pages to complete the novel. To my surprise it further excited me for the next episode. I cannot visit the toilet although i was suffering from loose motion. Since, author has beautifully crafted his thoughts into meaningful words. I had a sleepless night because of PaSsu Diary. Since this one is life changing novel. For that reason i have developed a note to the creative and honest author of the book just to show my appreciation.

*Note to Chablop(teacher of the toilet) based on his book👇

Dear author you really are creative writer,
The moment i started reading your diary,
I fall in love with your single words.

The first chapter "Students In Love"
really made me think love affairs in school should not be seen illegal.

Thus "Forbidden Arm"talks how harmful tattoo is. How regretful to have it one.

And you found happiness after letting your wife to "quit her job" as she found joy in the business.

Your Potato and chips story made me laugh as i knew how funny we Bhutanese are.

"HUBSONTHER" gave me shock because there is no such words in dictionary but you used creativity effectively.
It is interesting you clubbed three words to create one. (Hub)by(son)Fa(ther) all together made hubsonther.😲

Whipping the son when required is best idea to bring child on track.
Must be vigilant not to touch child in anger, like you mentioned anger is unreasonable.

World stopped for a moment when she saw first time in the history, father crowning the son.
Thus she had witnessed the magic of the millennium.

It breaks my heart when we no longer beat the drums and march on 11th November.
Although, extraordinary day will remain imprinted in our heart forever.

I have seen how fathers are joyfully agonyed,
Yet very much excited to listen to his child's first cry with wide open ears behind the closed labour door.
On your daughter's first birthday its funny that you have slept well beside awaken daughter and your wife.
However, you understood the meaning of birthday.

I can clearly understand the meaning when you say about the book of your mother.
How miserable she had lived her life just like Cinderella tale.
Glad that you wanna give all the world happiness to her.

It is more interesting when your son changed his speech topic during morning assembly.
But you felt proud wheb he considered you as his role model.

After reading Wangay's letter i feel pity on hardworking teachers.
But i hope your friend have got a justice now.
Your dream of "bereavement leave" might have came true.

It is disheartening to know about dangerous practice in our communities.
So called cooking up rumors while going through Bhutan's biggest earthquake.

Yes! "The Oscar for the best blog will always go to PaSsu" because you are passionate blogger.
You got Ashi Jetsun's interest on your blog
Thus made your visit to Lingkana Palace more memorable.

On oct 13th 2011 royal wedding took place
And world have seen the crowning glory,
As Bhutan crowned its queen.
I am pretty much sure your daughter will love reading your work,
when she grow up into adulthood.

You are right that we see no record in the history, king who is still potential leave his throne at the age of 51.
Never seen father king crowning his son.
It brings immense joy thinking about Father king's gift of happiness.

I see Bhutan is "full of mountains and valleys",
Mr.Khaw even said Bhutan is not a last Shangri-la.
But i was more surprised when you questioned him, What did you expect?
You are right Bhutan can become Singapore,
Singapore can never become Bhutan.

At the age of 17 i was only in grade 11,
Silently looking at handsome boys.
Our bold 17 young Jigme ascended the golden throne and gave hope to his lost people.
He was too young to leave his play ground and become king.
But his majesty ensured enough happiness for us.

Leprosy stigma was finally gone.
Sadly, Virus called AIDS has arrived to change the fate of millions.
I think we can still afford one more room for that victim.

We should be preserving iconic Paro Town,
If we lose Paro, as you said
"history may never forgive us".

I too feel there should be Ngultrum Identity
In bhutanese way of life.
Because i am tired seeing Rs. & $ sign on every tag.

I was wondering what is restricted species,
But you kindly refered teacher as the one.

I have been bright student during my school days,
I do have good marks but as you said this are all out of syllabus.
I just created a job rather than running after a job,
So, i think i have answer the call of life.

As a reader i am proud of you(author),
For stoping a man humiliating a woman in public.
Referering a fight than running to the class.

"Don't let their death go in vain" chapter pricked my heart because we are ignorant,
Our kindness inside us is harming many innocent life.
Yeah! "lets stop agreeing that death happens because of destiny".

I am also in the top list for not showing the appreciation for Bhutanese celebrites.
Difficult to recognise who he was after watching Phurba Thinley's comedy.
After going through your lines i think i will assemble all the courage to show gratitude if i saw anyone of them.

Telling truth for girls might have saved many life from hundred of fake promises,
made by unfaithful man.
They might have received a greater promises of their life,
That no man can give.

Oops! Ielts has been superstar in Bhutan since 2012,
It still is superstar this days.
I have no say about opportunity and credibility,
Well business is going well.

Our youth can't survive upon the salary thats lesser than someone's lunch bill.
There is more rejected jobs than jobless youth.

I want to convey the world don't design a permanent certificate because of your temporary mischief.
Tattoo on body can't change the people's thought.
Dont copy celebrities design because those celebrities have millions of dollars.

June 24,2012 made us watch our history burn.
We lost our 400years old Wangdue dzong to aggresive fire.
I was only 18 that time without much feeling of lost.
Now i felt sorry for our precious 1950s dzong.

I dont know how to show respect for Dasho Dzongda as he risked his life to rescue nangtens.
Finally you gave us hint that in our new history,
We will get a chance to say "that's the dzong built by 5th king and his people in 2012".

Is our pride that His Majest's Charm in Bangkok is a license to travel abroad.

Maths teacher at the fuel pump poured a enough knowledge,
How simple robbery is taking place even in fuel station.

I heard several times my grand mother talking about her Dorjipuen.
Never asked her what is it?
Today i got perfect meaning(brothers and sisters for next life) after reading your book.

I have a bitter experience that failed parenting will often lead to children's negative mindset.

By now i hope your lopen have been living happy after retirement.

People are irresponsible because we break simple rules every day.
They smoke where there is"no smoking sign".
You are right they had parked a car right on "No Parking".
Blasting noise where there is "Silence, please" notice.
Littering around " do not litter",
And splitting red doma spit on "Do not Spit Sign".
That makes we are in human.

Although going to Tibet was favourite game,
Dishearten to know the trade was marked illegal,
As many home will miss warm blanket.

What's your excuse? Is also making me remember "Nayak".
And wishing Happy anniversary, your majesties on 13th oct made you cry.

That Gap between school and home left many rooms to develop negative activities.
The inner search made me recollect my old memories,
That i too felt funny for doing it.

The character certificate can redefine the way human world function.
Shocked to know that Lomba is considered common birthday.

Rice votes from the people of Haa might have turn Haa valley into green.
While Bee solution have two different positive impact.

Teachers' day in Bhutan is an appreciation from student.
If teachers cann't teach then what will they do?.

A piece of history in Bajothang left curiosity in my nerves.
Monthly birthday gift needs to be education insurance rather blowing candles and cutting cakes.

Perhaps the history of Mojo dog keeps me thinking.
The day you met the Prime Minister completely melted your fears.

Your daughter's first day in school,
made you feel your daughter is bold enough.
Students' haircut become a issue not knowing the story behind.

Yes some parents are divorced,
Not all marriages are made in heaven.
Easy education is a blessing for all bhutanese only if we realise its values.

Love story and real life story is different story.
If we are greedy we will eat salty food forever.
10 Business of 1990s now become a history.

Rural Heritage Museum in my school is your project.
Wangdue dzong has been destroyed across the time.

Say no to sex on camera is good idea because sex is a private affair in human life.
100 bars in Bajothang might have increased to 200 bars now.
Diamond ring from a facebook friend is all scam.

First dzong in Haa is Dumcho dzong,
Audience with His Majesty is like Shakespeare writing poetry.
Democracy and love marriage to be seen from one angle.

Our cup of pesticide is everday tea.
Seven years in Bajothang reminded you to return back.
Bhutan Toilet Organization is my long awaited topic.


Little maya is very confident little girl.
A horsewoman of Taktshang is as brave as fighting lion.
Mythical treasure of Daga Dzong interest me to visit once.
The Buffalo horn in Daga dzong has mystery behind.

Paro has a problem in waste management,
Yet to education few more people.
His Majesty's carpenter story has a great message.
Visiting museums in Bhutan will spark imagination about past and future.

What can we learn from Nepal's earthquake is to avoid evil rumors.
Being responsible and smart on social media is your freedom.

108 trees for citizenship is Guinness world record.
108 prayers flages is for departed souls.
We will make good business if we reuse the poles.
Terton Sherab Mebar we missed in school was understood in greater way.
Journey of Terton Sherab Mebar's Kudung was puzzling.

Name changing syndrome is still confused.
DNA that your adopted sister has passed down is her kindness.
From the hospital bed we cant do that we like.
Thus honest scooter got disgusting laugh.

Entitlement is knowledge we took home after paid workshop.
Life is too short to wait for an abusive husband to change.
"Who the hell will protect her if the very man on her bed is assaulting her"?

Surprise gift from your wife is biggest gift( quit smoking).
Your stepfather was no less than anyone's father.
Pledge to live like The Great Fourth is best birthday gift.

Traditional Bhutanese Toilet habits is more strange.
More than just a date is 6th Februay.
Museum on the highway has many mythical stories.
Birthplace of khandro Sonam Palden is in Wang Simo.

Mother's sweet revenge is sweetest ever.
The moment with His Majesty the King was priceless.
A girl who was lost and never found is Dechen.
Later she had new beginning.

Dirty toilet is a mindset needs to be clean.
No schools on Saturday is light feeling.
Rice cooker disease is sugar disease.
Orginal or Chinese is contradictory.

Monsoon lessons is about un-Bhutanese.
Fragments of the king's dream was his blessings.
Toilet in laya was impressively clean.
Ap Phub's Bridge to Laya was another heart touching story.

Drakarpo Kora was toughest spiritual journey,
But its your stairway to heaven.
Toilet for your mother was your happiness,
As her eyes were filled with pride.

Soon I am sending PaSsu Diary back👍

Book review by
Sonam Choden
---
Enjoyed reading this Journal of Chablop Passu. In every article i can relate to my day to day activities.

Recommended for all Bhutanese book lovers.
---
I was lying on the hospital bed, my C-section due the next morning. We were welcoming our first born and the 'soon to be the new dad' comes in with a book. First I was skeptical about reading it, i reluctantly turned the pages ( I was advised to reduce screen time).

To my surprise I am already reading the 3rd chapter. I have never been on a roller coaster ride but I think the book made me feel like i was riding one. I cried and laughed and enjoyed the book so much. I finished the remaining half after we had our baby girl.

In those few hours while reading PaSsu's Diary I promised to my unborn and to myself that I will introduce her to the world of books and to reading and that I will make sure that she reads PaSsu's Diary.

I recommended the book to all my friends and family and the feed back was overwhelming.
---
Title: Passu dairy
Author: Chaplop passang Tshering
Year of publication: 2018
Unique features of the book;
1: It touches about the reality of the Bhutanese society.
2: Highlights about the historical places of Bhutan which awakens and instills about culture and tradition of Bhutan in the mind of young reader.
3: Throw lights about the journey of the authors life which inspires the youth with positive mindset to combat any glitches.
4: Points out about the family life, love story and real life story which prepares youth for successful Parenthood.
5: The book also touches about the uproar in the authors life as a social worker with utmost recognition which motivates youth to follow his footsteps.
6: Book is craved with the intricacies of wisdoms and creativity. HUBSONTHER..one of the new word in the book with enormous meaning. For more, go through the book.
7: The book also circles about the modern technologies and about some celebrities across the globe.

Message from the reader:
1: For a failures, it helps them to belief in the world through the different form and settings of the stories in the book
2: For a successors, it acts as a leading principle which adds more color in their life.
To put in the nut shell, it emphasize more about the life, hard works, dedications, commitments, team works and risk taking which is important to every individuals.

I recommend this book to everyone for you will never regret after going through it la.
Thank you
---
Title: Passu dairy
Author: Chaplop passang Tshering
Year of publication: 2018
Unique features of the book;
1: It touches about the reality of the Bhutanese society.
2: Highlights about the historical places of Bhutan which awakens and instills about culture and tradition of Bhutan in the mind of young reader.
3: Throw lights about the journey of the authors life which inspires the youth with positive mindset to combat any glitches.
4: Points out about the family life, love story and real life story which prepares youth for successful Parenthood.
5: The book also touches about the uproar in the authors life as a social worker with utmost recognition which motivates youth to follow his footsteps.
6: Book is craved with the intricacies of wisdoms and creativity. HUBSONTHER..one of the new word in the book with enormous meaning. For more, go through the book.
7: The book also circles about the modern technologies and about some celebrities across the globe.

Message from the reader:
1: For a failures, it helps them to belief in the world through the different form and settings of the stories in the book
2: For a successors, it acts as a leading principle which adds more color in their life.
To put in the nut shell, it emphasize more about the life, hard works, dedications, commitments, team works and risk taking which is important to every individuals.

I recommend this book to everyone for you will never regret after going through it la.
Thank you