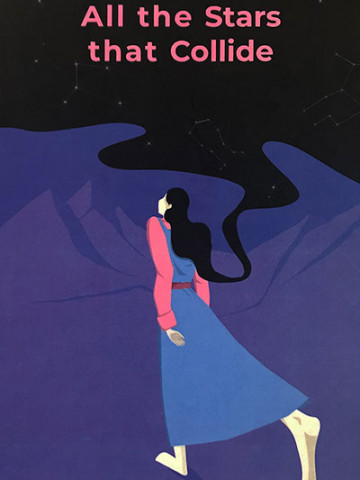 All the Stars that Collide
| | |
| --- | --- |
| Published In: | 2021 |
| ISBN: | 0 |
| Category: | |
| No. of Pages: | 100 |
Book Overview
'All the Stars that Collide' exudes youthful energy and is an invigorating read weaving different lives of young people. The book begins with Ava, a young Bhutanese girl on board a train in New York City, and she can't help herself but go on to sketch the portrait of a white boy with an intriguing face. After an abrupt introduction, the boy invites her to a wild excursion of the city with his group friends. The usually introvert and shy Ava is overwhelmed with life that night. It changes her life. In Ava's new group of friends scavenging New York city, there is another Bhutanese girl, Yeewong, a complete character contrast to Ava. Having grown up in New York, Yeewong has become a New Yorker but she is confused about her identity and involuntarily searching for her Bhutanese roots. And so, the characters in the book spirals on. The characters are all young, 13 Bhutanese in all, juxtaposed against life, challenging their resolve, and life pushing them against their own walls. The stories are ordinary but woven intricately well and are reflective of modern-day Bhutan and Bhutanese lives. The stories revolve around hope and it comes in unexpected ways from unexpected people. It comes through accidental meetings, strangers, in a book store, through a paper plane, a walk in the park, and casual Thimphu occurrences. And each story unfolds in unexpected ways leading the reader to keep on guessing. In one story, a lonely girl sitting behind the counter of a confectionary shop, writes happy messages on a paper places and shoots it out her window. She says she would be happy if it brings a smile on anyone's face. It does more than that. It saves a human life. But the stories are crafted in such ways that the two never know each other. It keeps the reader asking for more. The themes covered in the book are myriad – patriotism, Bhutanese culture, broken family, death, rape, social injustice, friendship, and love. But the themes don't cry out for attention in the book because the eloquent portrayals of human characters subtle the themes to good effect. Overall, the book makes a wonderful attempt to show how lives are connected – even with strangers and those who are worlds apart. The connection manifests in unimaginable ways and one finds it difficult to believe it is scripted. Life plays its games.
---
---
Customer Reviews (2)
---
This is a very inspiring book and it represents the reality of this generation it shows that humility still exist with many different life's facing different problems and with each life a solution is brought up this book contains so many hidden messages and the is one of my favorites I highly recommend it 💗
---
I just wanted to read a page or two and ended up reading it all. The book tries to bring forth different pressing social issues such as violence, rape, anxiety, depression, suicide, etc that our generation is succumbing to. Her language is far beyond for her age, at least for us Bhutanese. I simply loved the way the story is crafted and presented.
Books From Related Categories