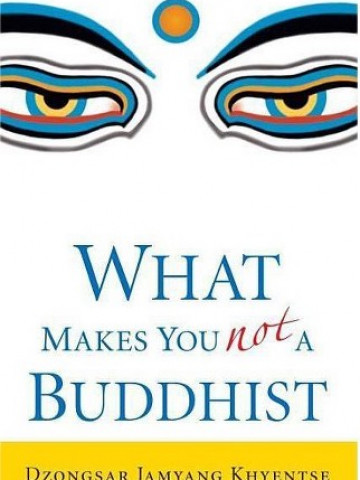 What Makes You Not a Buddhist
| | |
| --- | --- |
| Published In: | 2008 |
| ISBN: | 9781590305706 |
| Category: | |
| No. of Pages: | 144 |
Book Overview
So you think you're a Buddhist? Think again. Bhutanese Buddhist master Dzongsar Jamyang Khyentse Rimpoche, one of the most creative and innovative lamas teaching today, throws down the gauntlet to the Buddhist world, challenging common misconceptions, stereotypes, and fantasies. With wit and irony, Khysentse urges readers to move beyond the superficial trappings of Buddhism—beyond the romance with beads, incense, or exotic robes—straight to the heart of what the Buddha taught.
---
---
Customer Reviews (5)
---
This book made me think a lot about my way of life...it is an insightful book! I loved how Buddha's story was wonderfully placed in the midst of the thought provoking views of life.
---
"So you think you're a Buddhist?""What makes you not a Buddhist?" By Dzongsar Jamyang Khyentse Khyentse Rimpoche is a Guru whom I always have deep reverence and faith. Rimpoche has always made dharma a little easier to understand(though I don't understand anything completely) and in his "What makes you not a Buddhist?" we are given to understand that all Buddhists are not clothed in red robes and shaved heads. We are given to understand four truths ( not four noble truth). Rimpoche highlights that one is a Buddhist if he or she can accept the following four truths: 1. All compounded things are impermanent.2. All emotions are pain. 3. All things have no inherent existence. 4. Nirvana is beyond concept. Explained with various examples and stories relatable to contemporary world bads to further understanding and realization. There are elaborated explanations on why these four truths are true and doesn't change whether we believe in them or neither were they created nor will it be destroyed in whatever circumstances. These were there before 2500 years ago and will be there for eternity. Buddha just found them and helped other beings to find them and that is what is essentially referred to as Buddhism nowadays. This book is of just 160 pages but it has a vast wisdom beyond religion. If we see this book as a Buddhist text it's a biased perception. It is universal and applicable for all not just humans but all sentient beings. Rimpoche, no doubt is a great teacher and a monk but also a very convincing writer who can make his readers ask questions to themselves and stop to think while reading. I had a good thinking and contemplation while reading this book and I couldn't stop myself posting some excerpt from the book on my social media account. I have just tried to give a brief outlook of the book. Reading it will,without any doubt, brighten your understanding of things better, if not Buddhism. I highly recommend every one to read this book not because I read it but because it must be read. At the end if not anything, you will close the book with a smile, even if not by its often, but by the self portrait of the author on the closing cover. Have a happy reading Reviewed by Krishna Prasad Dhimal.
---
The book so called What makes you not a Buddhist containing 144 pages was authored by Dzongsar Jamyang Khyentse Rinpoche. He was born in Bhutan in 1961. He is the head of the renowned Dzongsar Monastery and Dzongsar College.

The book is beautifully coined aligning with four Buddha's truth also known as " the four seals" namely;
1. All compounded things are impermanent.
2. All emotions are pain.
3. All things have no inherent existence.
4. Nirvana is beyond concepts.

As I read through the four core truths of the tradition, it served as a lens through which I could examine my everyday life activities. This book has taught me overall insight of being Buddhist which lengthened my faith and devotion towards Buddhism and it's concept.

So lastly, if you want an understanding of buddhism this is a good book. You will better understand Buddhism and Buddhist after reading this.
Thank you.
Chimi Selden; Teacher
---
My second book of Dzongsar Jamyang khentse Rimpochae.This book will make you question yourself alot and it can be read by any other religion. As you read this book you will become less egotistic,less angered, less of everything because it's the power of this book. And you will enjoy many stories within the book too.
---
In this timely self help book, Dzongsar Jamyang Khyentse focuses on impermenance, to live in now_ness and how to handle our mental emotions and pain balancing them. The great lesson is taught that happiness is not the goal as its created by out own mind because everything is emptiness. The Rinpoche has also explained on the four important seals in order to become a Buddhist, you must accept that all compounded phenomena are impermenant, all emotions are pain, all things have no inherent existence, and enlightenment is beyond concepts. It is not necessary that only shaved head wearing robes can become Buddhist. So what makes you not a Buddhist.
Books From Related Categories