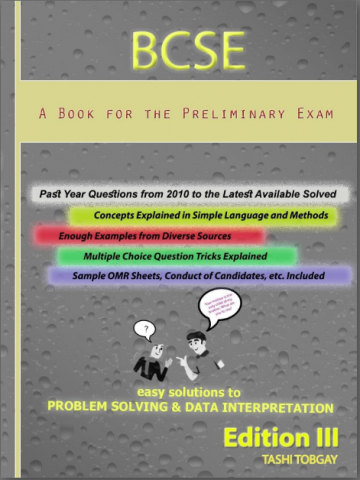 BCSE A Book for the Preliminary Exam
---
* Available in (book stores)
DSB Books, Pe Khang Books,
Book Overview
Mainly tailored for graduates unequipped with mathematics, this piece is easily understandable even by those having minimum or no acquaintance with math subject. Instead of attempting the questions with a mathematical approach, the book assists you to unleash your inherent logical and problem solving skills which otherwise has remained vague within yourself with the hesitant attitude created in you toward math. The book aids you to mainly understand the questions not in terms of mathematics but through realistic questioned scenarios which then automatically lets you comprehend the problems correctly to solve them right. PE, BCSE, assesses you on four competencies: English and Dzongkha Language Skills, Problem Solving and Data Interpretation abilities. To market myself, or in that matter anyone, on the first two categories would be deceitful as no one really recognizes what would be asked in these two areas. There isn't really anything to prepare from someone else's materials investing money on the first two categories. However, with right guidance and preparation, the last two sections i.e. Problem Solving and Data Interpretation, can be of advantage to you and you can certainly score full marks. And this simply is very enough to pass.
---
---
Customer Reviews (0)
No reviews yet for this book.