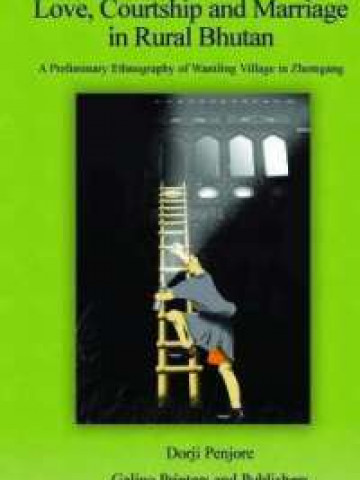 Love, Courtship and Marriage in Rural Bhutan: A Preliminary Ethnography of Wamling Village in Zhemgang
| | |
| --- | --- |
| Published In: | 2009 |
| ISBN: | 978-99936-23-151 |
| Category: | |
| No. of Pages: | 212 |
Book Overview
With ethnography of Wamling, village in Zhemgang, Bhutan, as a setting, this book is an anthropological accounts of a Bhutanese courtship custom, ethnocentrically and ignorantly translated as 'night hunting", once predominantly practiced in the villages of eastern and central Bhutan. It is a traditional courtship custom in which a boy stealthily enters a girl's house at night for coitus or courtship with or without prior consultation. It is an institution through which young people find their partners and get married besides performing roles of providing spaces for socialization, pre-marital and post-marital sexual access, sexual education, entertainment, and a rite of passage into adulthood which have hitherto remains unrecognized. The practice is known by different terms depending on languages spoken in the villages or regions of Bhutan. The ethnographer records the practice from the farmer's lips and avoids making judgment in light of gender issue.
---
---
Customer Reviews (0)
No reviews yet for this book.
Books From Related Categories