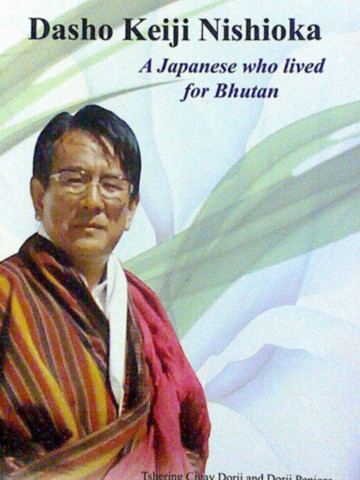 Dasho Keiji Nishioka: A Japanese Who Lived for Bhutan
| | |
| --- | --- |
| Published In: | 2011 |
| ISBN: | 978-99936-646-4-2 |
| Category: | |
| No. of Pages: | 131 |
Book Overview
This is a short biography of Dasho Keiji Nishioka, a Japanese agriculture expert who came to Bhutan in May 1964 and helped the country modernize its agriculture. The Fourth King His Majesty Jigme Singye Wangchuck awarded him the Red Scarf in 1980. His untimely death at the age of 59 in 1992 in Thimphu was mourned by the Bhutanese from all walks of life. He was posthumously awarded the Druk Thugsay Medal in 1998. The book captures the accounts of how he still lives in the hearts of the Bhutanese people today, especially farmers. A larger than life figure, Dasho Keiji Nishioka was to Bhutanese farmers what Father William Mackey was to Bhutanese students. While working with Bhutanese farmers for 28 long years until his death, he weathered the vagaries of Himalayan climate; tolerated the incivility of a nascent Bhutanese bureaucracy mostly headed by Indian expatriates; toiled and sweated with the farmers; dug the foundations of modern agriculture; sowed the first seeds of agriculture revolution; ignited the first dynamo of farming technology; watered dry fields with modern irrigation; created vibrant communities out of malaria-infested sub-tropical lands; and many more.
---
---
Customer Reviews (1)

by Chablop PaSsu (August 12, 2020)
12 Reviews
---
It's an inspiring biography of Dasho Nishioka, a famous Japanese whom every Bhutanese knew for his extraordinary deeds. For someone from Japan, a metropolis to show interest in Bhutan let alone live here, back in 1964 is in itself an act of destiny.
With no road connectivity beyond Dochula, Bhutan was geographically a hostile country back in the 60s even for the natives but a young man from Japan comes with his wife and overcomes all these difficulties as if they owe so much to this country, is like a fairy tale.

Every Bhutanese must read this book for several reasons;
1. To learn the meaning of service, humility and dedication. He was a Japanese who flew all the way to improve our lives, while we remain too absorbed in our selfish endeavours.
2. To understand what actual hardship looks like; walking two months across the country to reach the east...
3. To see how Dasho fixed the innate Bhutanese illness of being lazy
4. To recount Dasho's contributions and celebrate his life because with him the agricultural revolution took place in Bhutan; commercial farming began, the idea of vegetable market emerged, created the whole value-chain with potential to export but also we could see we haven't moved on much since then. We are still talking about the same problems that Dasho Nishioka and team faced and solved back in the 70s...

While I am so inspired by the story and acknowledge the effort the two scholars have put in to create the first tangible record of a great personality, I somehow feel a sense loss, incompleteness, a gap that's so dissatisfying... for his story to be told in just about 100 pages.

But credit to the two scholars for taking the lead. They have created a source to refer to for the future researchers and writers.

Technically, the book can be made more reader-friendly by printing on any other paper but a glossy one. I can see the it was done because there are many pictures but text and pictures can be printed separately on different types of pages.
Books From Related Categories