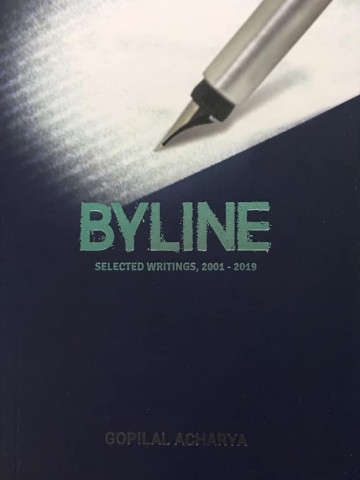 BYLINE
| | |
| --- | --- |
| Published In: | 2020 |
| ISBN: | 9789998090002 |
| Category: | |
| No. of Pages: | 316 |
---
* Available in (book stores)
DSB Books, Junction Bookstore, Miza Books, Pe Khang Books,
Book Overview
Selected writing (2001-2019) of one of the finest journalists in Bhutan, Gopilal Acharya.
---
---
Customer Reviews (5)
---
Byline is a concoction of newspaper articles from 2001-2019 under the chapters of People & Society, Politics , Economy & Media, Travel, Youth & Education, Mental health and everything that a journalist would get his hands on.
For someone who grew up reading paper copies of kuensel, one might get overwhelmed with nostalgia. It is not very often that a reader gets treated to such high quality journalism all in one book. The author gives us an intelligent & mostly unbiased analysis of Bhutan's move through time. The articles are either futuristic, trailblazing or our situations were constant for an extended time period, going by the dates mentioned. I hope the former is true.
It exudes warmth, memory and presence of vibrant close knit Bhutanese society. A must read for those that want to take a travel through time . An insightful read it is.
---
The book is a perfect food for thought which takes you through a journey of unexplored knowledge. Myself being a Political science and Sociology student, the 'politics, economy and media' section of the book imbued in me some priceless perspectives which will surely have a significant impact throughout my studies and even beyond. Highly recommended!
---
An apetiser for anyone who would love to read. I thoroughly enjoyed every pieces of well written news articles, memoirs etc.
---
Byline authored by Gopilal Acharya well known journalist has not only written for bhutanese but also internal national newspapers. The articles in the book were all published between the year 2001-2019 in different newspapers.It has been perfectly divided under seven headings namely; people and society, political, travel, youth/ education, mental health, award winners and the last of the lot.It takes us back to Bhutan history of 1964 to 2008 election. And how social media in different form helped in politics. Social media will continue to play vital role in peoples life not only in politics but also in keeping oneself informed. The most engrossing section for me is the Youth and education. It talks why students do not read. Its a fact that most of the students in remote schools come from non-reading socio-cultural environments. But teachers can play a vital role in enhancing positive attitudes towards reading. Followed by science education in our bhutanese classroom and reasons why only fewer girls opt for science . The most tragedy story was 'caged in Phanas', where Tshering Lhamo 36years old then was caged in a small cabin in Mongar Phanas. She suffered mental disorder at her young age of 13 years. She couldn't recover and it became a struggle to her mother. Theres lot to read and feel.
---
Gopilal Acharya's Byline, a collection of his journalistic work between 2001 and 2019, contains a fascinating range of essays — a juicy love letter to ema datsi he wrote for CNN, cleanly described idyll of the country in his travel writings, nuanced arguments on policy matters, and some reflective personal pieces. As the title suggests, most of these writings previously occurred in the national and international media and journals. The collection is immaculately divided into seven categories — People and Society, Politics, Economy & Media, Travel, youth and Education, Mental Health, Award Winners (writings that won him national awards), and The last of the Lot.

The author says that he got the idea for the collection from Ernest Hemingway, the great American writer who published his journalistic work under the title Byline, and M. J. Akbar, a noted Indian intellectual and writer. Although the author says he does not measure up to Hemingway or Akbar, I would argue that man is a Hemingway in his own right. At the centre of these essays is a thoughtful writer who carefully chooses his style to get his ideas across. He uses the language for the sake of ideas only (perhaps a trait he took after Raymond Carver, one of his favourite authors) and makes little allowance for emotions and prejudices to colour his narrative. A remarkable display of this controlled style is reflected in Caged in Phanas — a heartbreaking story of a mentally ill woman who, lacking medical care, had been put up in a makeshift cage at her house for the last 23 years. Such brutal realities make up the grains of what we call in the grand idiom the human condition. The author has occasionally picked these grains of the human condition and dispatched them to the readers stamped with the mark of a serious writer.

I do not want to get into each piece and discuss them here; he does that best himself. And given that the pieces are generally short, there is no need for a summary. Although most of his pieces are relevant and give a glimpse of the Bhutanese society as it is (that is stripped of its glossy articles it has been forced to wear as a supposed Shangri-La should), my favourite pieces are from the travel section. In Slow Drive to Sipsu, his gentle prose carries the idyll of the bucolic south, then shifts its momentum to catch the life that is there, then pulls over at a good spot — deftly placing nature, people, and history as driving forces among themselves. In men without women can have fun, too, he recounts his travel in Goa with two other journalists from Nepal and the Maldives. An interesting story about the exploits of an all-men team is suffused with Miles Davis and booze, the motif in his poetry and fiction too.

The book offers carefully sampled glimpses of Bhutan and her issues. Both casual readers and the serious lot can find stuff of their interest in the book. I read the book with pleasure and profit. I am flattered to say that the author presented me with an autographed copy of the work for the earlier honour that was given me to be one of the guys to read a pre-published version of the work.
Books From Related Categories