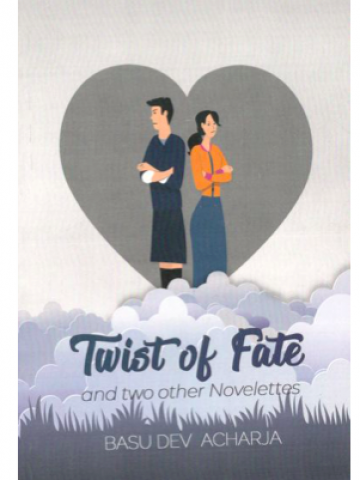 Twist of Fate and two other Novelettes
| | |
| --- | --- |
| Published In: | 2021 |
| ISBN: | 978 99980 925 0 1 |
| Category: | |
| No. of Pages: | 87 |
Book Overview
Everyone has a story to tell the world but sadly only words sell, it is also true that so many great storytellers die unheard with their ideas I shaped. So, i have shape to this book in the name of all the storytellers who surrendered themselves to the icy hand of death even before the world could hear them. Read and discover the stories, which are at some point tragic,others romantic, yet few achingly beautiful.
---
---
Customer Reviews
---
Quite relatable in reality
---
The story was interesting and was based on true story. It made me want to read more books written by this author.
---
Great book, I have read and enjoyed more and more as flipped the latter pages. Keep up the spirit and hoping to read your next book too.
---
Written in a simple language with lots of enthusiasm. Love this
---
Great! The book is simple and easy to understand written with lots of wit. If you read it i am sure you wont regret it.
---
It was a wonderful book by a young collegian. You won't regret reading that.
---
Twist of faith and two other novelettes- the most awaited book I read by a close known writer of mine, is so impressive and interesting. Inspiring because the writer has plotted each scene so realistically that I actually felt if I am the character playing the roles. The roles played by the characters are often a true one for most of the people in life.As a debut book it is so much that the writer has worked on the book. From the creative mind to cooking stories to making it read like real events happened, the writing has also done a very motivating work especially for a budding and aspiring writer like me and he himself for the near future.To your amazement, I must say this, that as I started reading the story I finished it in one go for every page and words attracted for more. Though the number of pages were few, it carried huge emotions and hard work of the writer. Hence, worth appreciating and reading.Thank you, writer.I've always learnt from watching you learn and reading your articles. It is really motivating to see you getting seceded.
Books From Related Categories