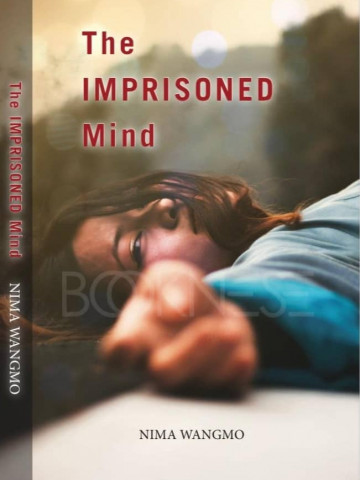 Book Overview
The Imprisoned Mind, a fictional story that unfolds through two roommates. Yangchen, who was drowned in self-doubt and low self-esteem after being cheated by her first love, Wangyal. She ran into Dradul, a very charming guy while she was struggling to unlove Wangyal. Is he the one who will teach her to fall in love again or will she lose faith in love forever? Namgay, a girl with a cool head. A full packet of ideal women, at least that's what Yangchen thought of her until her outlook started fluctuating. Take the roller coaster ride of love and hate with Yangchen and Namgay ti discover the inner clash and incongruity of life. A story which will teach you beyond love. A story that will teach you self-love and self-development.
---
---
Customer Reviews (8)
---
I give this book a five star!❤️ It was literally the best book I've read, written by Bhutanese authors. After I finished reading this book I've also recommended it to my friends. Some of them took it and I got good feedbacks from them as well. The book is still with my friends who recommended it to their friends and they're still reading it spreading it with many of the students in my school.🤍
---
I enjoyed reading The imprisoned mind book, story about unfold between two roommates and self doubt . Love the moral behind each chapter and Looking forward to come up with more books Ashim Nima.Take care , stay safe .
---
It's indeed a great work. Love the story and the moral behind every chapter.
---
The Imprisoned Mind is the great book. This book tell us that the happiness and the sadness in our life is all creations of our mind. The author have put word in such a way that it could be easily read and understood by all the readers. I really enjoyed reading. Congratulations and thank you author for writing such a wonderful and interesting novel. Looking forward to read more books in future
---
Hi, It is always our imprisoned minds that distract us from knowing each other's and this book tells us how we should handle it with care. I have learned through this novel that our mind is the creator of happiness as well as sadness. This book has amazingly converted so much hatred in me into neutral feelings. Give me the positivity to look a things from others points of view too.thank you author for writing this sensational book and making me think beyond and reflect on lessons I have learned through bitter experiences in life. Moreover I feel extremely lucky to get an opportunity to read the manuscripts. All in all, loved and expecting another book soon.(son Terry Evadas)
---
This book is shaped in a manner that it create suspense at the end of each chapter which makes the reader to continue reading. I really wish that the novel for class IX and X be replaced with yours so that all students can write well in their finals. And thanks for making Mr Dradual, a defece aspirant and mentioning my academy. Some of my favorite line from the book; IN THE END, we will remember not the words of our enemies l, but the silent of our freinds by Martin Luther king and forgiving sets your free. Holding grudges hold back your happiness too. Pema wangchuk
---
For the first time am able to complete a book in one go although I took six hours. You have used a very simple language, the language which an average reader understands which is again an assset for a reader like me. It is easy to read, comprehensive book written with a common sense approach that helps the reader to understand the subject.
---
Firstly, I congratulate Dr.Nima on your first book and determination in making this happen, I really appreciate it. The way you have used various techniques in writing the story and creating people and their characters, making it all alive is just awesome. Overall, I loved reading your book, never in my life I enjoyed reading like i enjoyed reading The Imprisoned mind, I hardly read though???.looking forward to read more of your work in future.good luck!!!