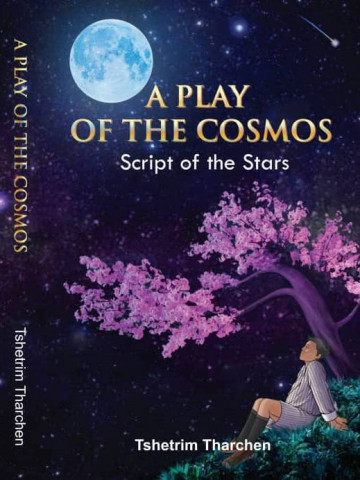 A Play of the Cosmos- Script of the Stars
| | |
| --- | --- |
| Published In: | 2020 |
| ISBN: | 978-99980-869-2-0 |
| Category: | |
| No. of Pages: | 264 |
Book Overview
How would you live your life if the one thing that is motivating you is the one thing that is killing you? Well, meet Drugyal Tenzin, a seventeen-year-old high school boy who has an accursed blessing in his blood. It's an irresistible tale of a psychic journey that takes a massive tangle as he gets closer to the beautiful Yeezin. Join Drugyal and Yeezin in a chronicle filled with endless hope, unparalleled commitment and an undying love all for a play of the cosmos.
---
---
Customer Reviews
---
If you are in search of a book which can inspire you and get yourself a feeling of exploring the fictional world of a cosmological character then I suggest you to read this book (A Play of The Cosmos).

It is a masterpiece perfectly crafted by the talented author. It's a book worth buying. I have got a copy for myself and I would like to request you all to please get a copy for yourself and experience the beauty hidden in this book.
---
Its something that really connected to me in some way. A simple, sweet high school love and many times we face in life. Being of small grade right now gave me one great connection to this book.
I would like others to read this book too. Its a nice book full of love.
---
If you believe that, you are the only one playing cosmological character, i request you to read A play of cosmos by our native author. He touches the taste of a love.
A person is bound by a love whole of his horizon.
---
I would like to recommend everyone to go through this journey and experience the beauty of this masterpiece by our native author.
I am sure that everyone will enjoy this book like I did and it will be one worth novel to spend on.
---
Well written and I recommend everyone to read the book
---
The storyline is just amazing
---
its a meaningful book which gives the youth a taste of reality, love n joy...thank you for writing this amazing book hoping for more wonderful book form you la... fighting
---
Beautifully written book❣lots of inspiration
---
Encouraging book for every young reader with so much well written facts..
I enjoyed reading 👍
---
The book which made me to fall in love with reading😍. Try to read it, i bet you won't be able to stop reading until your done😊
---
At every level this novel is a dazzling gleam of hope to all readers who had suffered from the darkest minds of past..I recommend this book to be read by everyone....
---
This book is to die for. Wonderfully written. Heals your soul💞💞💞 love this book
---
One of the best Novels that everyone shouldn't miss to read!!!
---
The best book ever! I recommend everyone to read it
---
One book that made me cancel all the insecurities and brought back hope in me that had died years ago. I recommend this book for everyone who is feeling low about themselves.
Books From Related Categories