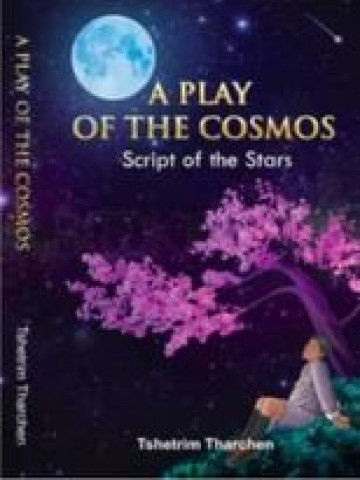 A Play of the Cosmos- Script of the Stars
| | |
| --- | --- |
| Published In: | 2020 |
| ISBN: | 978-99980-869-2-0 |
| Category: | |
| No. of Pages: | 264 |
Book Overview
How would you live your life if the one thing that is motivating you is the one thing that is killing you? Well, meet Drugyal Tenzin, a seventeen-year-old high school boy who has an accursed blessing in his blood. It's an irresistible tale of a psychic journey that takes a massive tangle as he gets closer to the beautiful Yeezin. Join Drugyal and Yeezin in a chronicle filled with endless hope, unparalleled commitment and an undying love all for a play of the cosmos.
---
---
Customer Reviews (25)
---
This book stole my sleep because I couldn't put it down. I literally cried when Drugyal Tenzin breathe his last on Yeezin's arms. My daughter wiped my tears and said "Hani gap cha? School delay ong?" To the author of this book, you have written a wonderful Novel. It was a reminiscing moment for me and I clearly recollect my days at MHSS.
---
Lovely Novel and the cover is even more attractive.
---
The Play of Cosmos is an eloquent story and it's an ideal read. I love how deep and rich each character is. Never had I read a story like this and I simply couldn't put it down.
---
A play of the cosmos gives nostalgic feeling for high school days. The novel portrays young love from Drugyal Tenzin to Yeezin. Drugyal Tenzin the main character is blessed with versatile talents. With his dreams to become an architect, he excels academically. And his creativity and poetic talents lead to win three rivalry in a night in his hight school. Though he is poor his grandmother does all the best she could to fulfill all his needs and wants. The novel is filled with endless hope and undying love for a play of the cosmos.
---
To be honest,My English teacher yeshey choden share about book called,'A PLAY OF THE COSMOS' it give me a wonderful feeling i ever feel in my life.My madam share story about book and i was very much eager to read a story.She said that soon book will reach here at our place.Finally book reach and I buy one copy of book. I inspired some my friends to buy each copy because i knew that book will be wonderful that everyone will fall in love with book.Some people says, "Don't judge the book by cover"but it was not true since,'A PLAY OF THE COSMOS' was such a wonderful story I ever read in my life.l was deeply fallen in love with this book and i know most of the people also fallen for this book same as me laa..I love the book very much..
---
Lovely book i have never seen before..so helpful to students, Gives meaningful lesson and Knowledge for young people
---
To be really honest, when I first saw this book on the Facebook page while scrolling , the cover itself caught my eyes and even it's title. Curiosity grew and so I brought this book. I must say that everything about this book is a great piece of art created by the author himself, which really reflects the reality we live in. I really liked how the story was being created and it's theme of love and friendship. I am least interested when it comes to love but this book really got me thinking twice about it. It's description on love is so beautiful that the high school love detailed in the story is just so freaking amazing that we desire for one for ourselves. All in all, I just wanted to say that this book is worth reading and worth buying one, I recommend this to everyone. Happy reading.
---
A very wonderful book. I am very glad that I brought this book, l couldn't stop myself from flipping the pages. I had lot of fun reading this book, it was as if I was in this book with those characters. I can't believe that this book even made me cry, some of the things in this book were very relatable with our lives. To everyone who haven't read this book I would like to highly recommend this masterpiece, I guarantee that you won't regret picking this book.
---
Well i have been intriuged to read the book by the title of it...and i am very glad that i did..The story is very beuatiful and very much of what happenes to high school love?
---
If you are in search of a book which can inspire you and get yourself a feeling of exploring the fictional world of a cosmological character then I suggest you to read this book (A Play of The Cosmos).

It is a masterpiece perfectly crafted by the talented author. It's a book worth buying. I have got a copy for myself and I would like to request you all to please get a copy for yourself and experience the beauty hidden in this book.
---
Its something that really connected to me in some way. A simple, sweet high school love and many times we face in life. Being of small grade right now gave me one great connection to this book.
I would like others to read this book too. Its a nice book full of love.
---
If you believe that, you are the only one playing cosmological character, i request you to read A play of cosmos by our native author. He touches the taste of a love.
A person is bound by a love whole of his horizon.
---
I would like to recommend everyone to go through this journey and experience the beauty of this masterpiece by our native author.
I am sure that everyone will enjoy this book like I did and it will be one worth novel to spend on.
---
Well written and I recommend everyone to read the book
---
The storyline is just amazing
---
its a meaningful book which gives the youth a taste of reality, love n joy...thank you for writing this amazing book hoping for more wonderful book form you la... fighting
---
Beautifully written book❣lots of inspiration
---
Encouraging book for every young reader with so much well written facts..
I enjoyed reading ?
---
The book which made me to fall in love with reading?. Try to read it, i bet you won't be able to stop reading until your done?
---
At every level this novel is a dazzling gleam of hope to all readers who had suffered from the darkest minds of past..I recommend this book to be read by everyone....
---
This book is to die for. Wonderfully written. Heals your soul??? love this book
---
One of the best Novels that everyone shouldn't miss to read!!!
---
The best book ever! I recommend everyone to read it
---
One book that made me cancel all the insecurities and brought back hope in me that had died years ago. I recommend this book for everyone who is feeling low about themselves.
Books From Related Categories