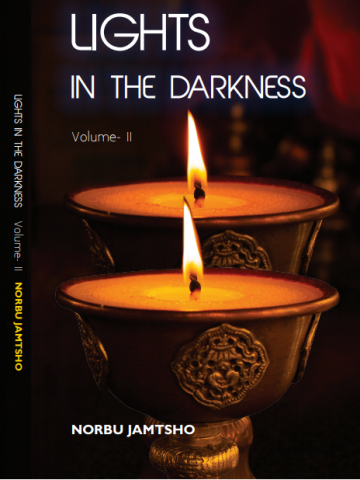 Lights in the Darkness Vol- II
| | |
| --- | --- |
| Published In: | 2021 |
| ISBN: | 978-99980-962-02 |
| Category: | |
| No. of Pages: | 113 |
---
* Available in (book stores)
Megah Enterprise,
Book Overview
Uncertainties, certainties and impermanence rule the world. They are the laws that no one can reject. After tiring 13 years of schooling, I got a chance to study in India as a government scholarship recipient. It was a moment of pride for me, my family and my supporters. Yet the choice was between my family and lifelong education. I chose the latter. Yes, I have had a hard past. A painful past. Nevertheless, due to the constant support of so many people in my life, I was somehow climbing the ladder. My elders and mother were settled by then. I just needed to focus on my career and three siblings. Not putting too much weight on the past, our family once more got united. I acted as a link. The choice between going to India for three years and looking after my family was hard. My beloved mother and all who came to meet me before I went to India cried the tears of departure. Departing with the family is always painful for everyone but with the hope of having a bright future for us, I left for India. My prayers were to meet my mom with a face full of smiles right after my graduation. She would be proud as I would the first son of hers to successfully graduate. I know she would be talking to her neighbors about me and waiting for my return. Did my prayers get answered? My plans, hopes and wishes were all killed the day I heard such tragic news. "Sorry to tell you! Your mom and brother died in an ambulance accident on the way to the hospital." "What? My mother!!! My brother! When and how?" "No!" I shouted in disbelief and got up from the bed. "I am sorry. They had an accident. I am on the way to Thimphu hospital. Your Aku was airlifted to Thimphu hospital. Take care." "Ja Ama Dang Kota shiwa dang!" I collapsed back to bed. I burst into tears with a loud cry. An adult cry was so loud. "Amaaaaaa...... Amaaaaaa... JA Amaaa.................." I cried Such an unfortunate accident to my family was the greatest misfortune of my life. I had never expected in my wildest dreams that this would come at this point. This tragedy would haunt me for the rest of my life. The burning candle in the wind was put out. My mother did not get the chance to experience that calm after the storm. She passed away before she could begin the soft chapters of her life. I feel the real emptiness without both the parents. Life is so tough, it is empty. When things do not work well, I wish I had my parents to seek guidance and words of consolation. I wish I had a home. Everything has broken. I am a wandering cloud ,trying to find a place to nest but it is all empty. I feel something is missing from my life. I cry in the nights often hoping for a better tomorrow…
---
---
Customer Reviews (1)
---
This book is full of wonderful and heart-touching stories. I have to say that this is definitely one of the best book I have came across. This book worth our praise!!
My words aren't enough to describe this wonderful book. I enjoyed reading it and I highly recommend everyone to read it la:) Acho norbu jamtsho your writing inspires me?
Books From Related Categories