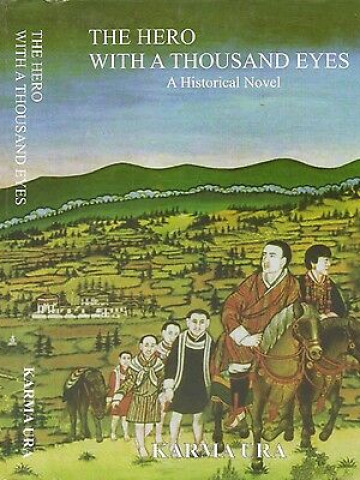 The Hero with a Thousand Eyes: A Historical Novel
Book Overview
Karma Ura's book The Hero with a Thousand Eyes gives a wonderful insight into the protocol and workings of the Bhutanese court in the days of the second king, Jigme Wangchuck
---
Customer Reviews
---
The Hero With a Thousand Eyes by Dasho Karma Ura
This three hundred twenty nine pages book is written in the first person point of view. The author uses simple language and the Bhutanese reader can easily connect to the story as the setting is in Bhutan spanning from 1940s to 1980. The book chronicles the life and journey of Dasho Shinkhar Lam starting from the time when he was groomed to follow the foot steps of his father as he was recognized as the reincarnation of the lama of Wamtshespa; the hereditary lama of Shingkhar village in Bumthang. The twist and turns of events bought him to be a retainer at the age of sixteen at Wangdicholing Palace in 1944 along with his younger brother.
He vividly takes us through the cramped store room (his bedroom) of the widow lady who gives him shelter at her house in Wangdichloing while he attends duty at the royal court. He narrates the long queues gathered to call on His Majesty The Second King JigmeWangchuckat the Wangdecholing Palace and later puts forth a typical day in His Majesty's life. He touches exclusively on the preparations involved when the royal Court leaves for the winter Palace from Bumthang to Trongsa Kinga Rabten palace.
At certain segments in the book, you get to glimpse into his love affairs and how relationships were regarded then. The detailed taxation system during the reign of second King is brought to forefront as the protagonist was directly involved in collection of tax as well as in the reforms of taxation in Bhutan then. Though we learnt about the tax reforms in history, we didn't know how it was implemented and how it used to be before the reforms. So history teachers can delve into the book and share with our Millennials the kind of life style Bhutanese led in the 1990s. School teachers and aspiring historians could use the information on taxation and how reforms were painfully done across the country during the reign of our third King JigmeDorjiWangchuck; a father's dream realized by the son for the welfare of the citizenry in the country.
The reader gets to rewind history of Bhutan and fast forward the unprecedented development in the country; starting with Bhutan joining the Colombo Plan(1963) to becoming a member of the United Nations(1971), from the building of mule tracks to the construction of modern road from Phuntsholing to Thimphu (1972) and the architect involved behind the scenes.
Dasho Shingkhar Lam assumes the role of the 5th speaker in the National Assembly and takes one through low phases of time in the history of Bhutan when His Majesty the third King passes away untimely at Kenya. The atmosphere lightens up a little when he gets fully involved in the preparation for the Coronation of the 4th King, His Majesty JigmeSingyeWangchuck.
If parents want to let their children get a glimpse of how life used to be in the early 1930s to late 1970s in rural Bhutan, this book sheds light on it. One can't help but admire and appreciate our Monarchs for their love and affection for their subjects to the extent that they neglect their health to work for the country. The Bhutanese people's sentiments and bond resonate in the speech addressed by the Speaker in the 37th National Assembly; while His Majesty the 3rd King lay in state in Thimphu from 23rd July to 19th October, 1972:
"We experience peace and comfort due to the blessed unity and cooperation that exists between all the people. We are like amicable members of a household and we ought to be selfless enough to think about the larger interest of the country. Above all, there is unblemished faith and loyalty between the King and the people. We have a culture where the ruler treats his people with more love and affection than his off springs, and where people revere their King like a God and regard every act of the King as wise. The faith and loyalty between the King and the people is so constant that it can be hardly found anywhere else."
---
During my days in school in 90s, this was the only book by Bhutanese on the library shelves among the thousands of other books. One can imagine how lonely this book must have felt.

Dasho Karma Ura, the undisputed authority on Bhutanese History, became a part of history himself by becoming the first Bhutanese to publish a book in English, there by forging a new path for us.

The book, which can now be considered a classic, take us back in time through the memory of Dasho Shingkhar Lam. It's interestingly written in first person, and one can get the feeling of being there in the moment as Dasho Shingkhar Lam walks his way across history from the court of Second King to Third King.
---
Featured Books
These books have just arrived on our shelves