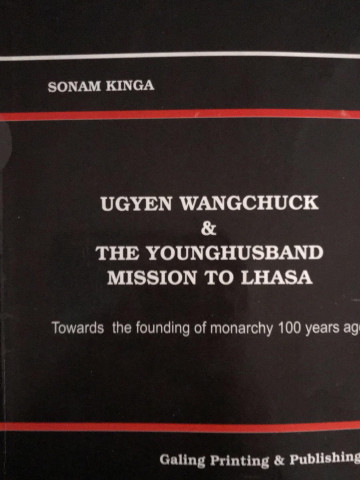 Ugyen Wangchuk & The Younghusband Mission to Lhasa
| | |
| --- | --- |
| Published In: | 2004 |
| ISBN: | 99936-600-2-3 |
| Category: | |
| No. of Pages: | 108 |
Book Overview
This book tells the story of Trongsa Penlop Ugyen Wangchuk joining the Younghusband Mission to Lhasa in 1904. By the beginning of the 20th Century, Bhutan has established firm relationship with British India governed by Treaty of Sinchula of 1865. By then, Ugyen Wangchuk has risen as the unchallenged leader of the country. The British also chose to deal directly with him for the matters concerning Bhutan. The shifting centres of power in Bhutan earlier had been an obstacle against British interest in Bhutan. Ugyen Wangchuk's contribution in the Younghusband mission secured for him unquestioned British support, who gave their formal recognition in 1905 by decorating him as the Knight Commender of Indian Empire. This was both psychological and strategic victory for the Trongsa Penlop over other leaders in the country. He became virtually the ruler of the country even before the monarchy was founded in 1907. The Wood Monkey Year 2004 is the hundredth anniversary of Ugyen Wangchuk and the Younghusband Mission.
---
---
Customer Reviews (0)
No reviews yet for this book.
Books From Related Categories