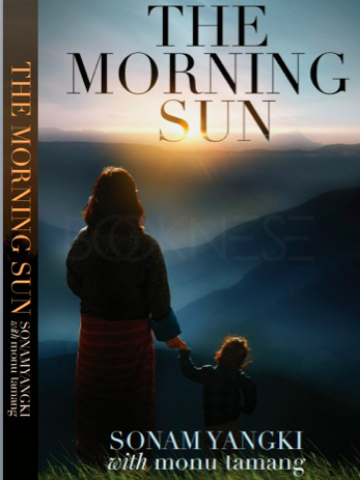 The Morning Sun
| | |
| --- | --- |
| Published In: | 2017 |
| ISBN: | 978-99936-955-1-6 |
| Category: | |
| No. of Pages: | 177 |
Book Overview
A young mother leaves her infant daughter born of wedlock to die. The child is rescued and brought up by her grandmother. Fate however winds her sail of life through trying times. The Morning Sun is a story of human's resilience to survive and look for the best that tomorrow promises. The protagonist, amidst all the challenges, hopes for a day break - a daybreak that would end all the darkness. Does she wake up upon the light of that Morning Sun?
---
---
Customer Reviews (7)
---
The book unfolds the hidden stories of the real life struggle and very unfortunate incidences happened in a life of a woman. The book uncovers the struggle of a woman and the strength needed of a person to live life and make life portrays that there is always a choice in life. Reading through the story made me realize how hard and unfortunate life can be for some people and reminds me to be thankful of all the fortunate things happening in my life. It made me to pause and feel gratefulness for what ever I have now and it also aggravated my will to help people who are struggling because no mater how unique each person is, there is always this one common thing that is we all are ultimately seeking happiness and peace. It taught me the power of persistent and resilient. Albeit the story may seem common, however creates great awareness. Hence makes this book a worth reading.
---
If there is one-in-particular lesson to learn from this book, it is this; "When life knock us down we can either choose to mourn with morning sun or shine with morning sun." Yangki chose the later and better.

Those of us who think life is being tough on us must read Monu Tamang's heartbreaking yet rejuvenating tale of Sonam Yangki.
---
"The Morning Sun", Monu Tamang's third book is based on a true story. It is the life story of Sonam Yangki – her journey from being abandoned at birth to owning her own tourist lounge. When her grandmother takes Sonam in on a cold November night, the infant has no idea what lay ahead of her. Sonam is a brave girl who defies her fate and keeps fighting, living one day at a time, in a hope that tomorrow would bring a new light. But when the sun ultimately gets closer, it might scorch her with a bitter truth.
It took me just over two hours to complete this book – it was definitely a page turner. I wanted to know what happened next. I knew it was non-fiction, and I'd seen Sonam Yangki with her little Golu at the launch party for the book. That only made me more curious.
The book shows that Monu Tamang has grown as a writer. This book was well written and well edited. So a brownie point. I'd recommend this book to any Bhutanese who wants a two-hour break from your daily schedule.
---
Title The morning sun is written by Monu Tamang based on the true story of Sonam Yangki. The story begins in an apple orchard. In an apple orchard the mother keeps her baby under an apple tree just because that he did not want to get the blame of giving birth to an father less Child. The baby has been raised by her grandmother .This story is related to the youths of 21st century its about the struggles that they are going through in their life for not having their parents by their side . Sonam faces lots of problems in her life even though going through lot of struggles she stays strong and fulfills her dreams.
Them :it's not a bad life it's its a bad day "so be strong "
---
The Morning Sun is a novel based on the true life story of the protagonist, Sonam Yangki. It shares us about the challenges faced by Sonam during her journey of life. She has successfully survived against all odds.
The story begins in the freezing winter morning where a baby was being abandoned by her young mother in an apple orchard. The young mother has taken this decision to avoid social stigma of carrying a fatherless child. The abandoned child was Sonam Yangki. She was fostered by her grandmother. The grandmother faced lot of difficulties to raise her. Sonam's grandmother nurtures her and as Sonam grows, she has to face her fate. Even though Sonam has a stepfather, it is of no help as she was forced to work in pubs and drayang for the source of income. Later, Sonam gave birth to a child who has cerebral palsy.
The Morning Sun is all about facing hard times with determination and motivation, and hoping for a better tomorrow. It basically depicts about modern challenges; it also draws a picture of a society that is becoming largely uncaring.
This novel is an inspiration and motivational piece for all the women who are undergoing such hardship for their livelihood. The greatest glory in living lies not in never falling, but in rising every time we fall.
---
The morning sun was originally published in 2015. The protagonist in the story is son am yangki a mother of a child born with cerebral palsy. This is more of an encouraging book to those who's children are born with cerebral palsy and to help them have a positive attitude. It consists of pretty themes and a lot of violence.son am is a Father's child and here mother abandoned her in an apple orchard in those chilly winter days. Her grandmother nurture her. Suitation makes her work in pubs and drayangs for income. It is very bittersweet read but one you would enjoy and have a feeling to never give up no matter what life lead us to.
---
The morning sun is a story of a young girl's instinct for survival heightened by the hopes and expectations of a better tomorrow. Her mother abandons her infant daughter born out of wedlock and leaves her to die. Of it wasn't for her grandmother, she would have died in the cold November night. But fate has other surprises in store for her.
She is a very kind girl. She doesn't have much money but always thinks about others before her. Amidst all the challenges, she looks forward to a light to dispel the darkness in her life. She sings in the clubs and earn money, she buys clothes to the poor people. And one day after signing whole night in the club she earns some money and buys two jackets for poor people. She went on hiking in the mountains when she meets a old couple she gives the jacket to them and they give her many blessings. They even say, " Your parents are very lucky to have a child like you" She cried, And then she shares her story. Reviewed and submitted by (Devya Subedi Class 6, Peljorling Higher Secondary School)
Books From Related Categories