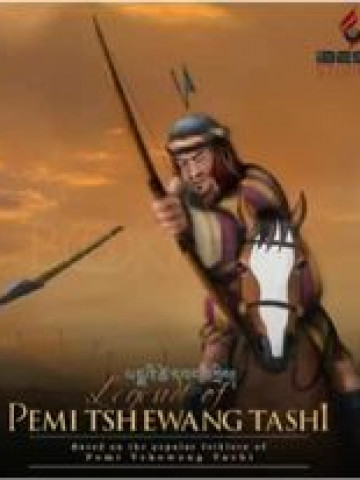 The Legend of Pemi Tshewang Tashi
| | |
| --- | --- |
| Published In: | 2018 |
| ISBN: | 9789998083301 |
| Category: | |
| No. of Pages: | 146 |
Book Overview
The 2D animation feature film is based on the popular folklore of Pemi Tshewang Tashi. At the age of 27, Pemi Tshewang Tashi, the Chamberlain of Wangdue Dzongpon, Angdruk Nyim, leads a reinforcement troupe to Mangde Valley on the request of Trongsa Penlop Dungkar Gyaltshen. A father of two and happily married, Pemi Tshewang Tashi is torn between his overwhelming sense of duty and servitude towards his master and love for his family and his own life. Confronting the powerful and mighty troupes of Choeje Pem Tenzin of Bumthang is no mere feat. Victory would mean great accomplishment but the battle could also result in his death and of his soldiers. Yet Pemi Tshewang Tashi must take the journey to Trongsa. In the clash between the two rival armies at the battle of Changmani, Pemi Tshewang Tashi's troupes are defeated. He flees the battlefield, chased by his rivals like mad hounds chasing a helpless deer. But on reaching the Thomangdrak (cliff) opposite to the Trongsa Dzong, he is trapped between a steep rock and bottomless cliff. To salvage his pride and honor, Pemi Tshewang Tashi does not surrender but jumps off the cliff.
---
---
Customer Reviews (22)
---
"The Legend of Pemi Tshewang Tashi" narrates the story of Wangduephodrang Dzongpoen Angdruk Nyim's most capable and powerful zimpoen (Chamberlain) Pemi Tshewang Tashi who had to choose between love for his family and loyalty to his warlord. A must read for every book reader out there!
---
The "Legend of Pemi Tshewang Tashi" is the best Bhutanese book I have ever read! It has many great illustrations!

This book is written in a comic script form.

You will come across many characters when you read this book, and some of their names are hilarious! I mean, they are funny. For example Dampa, Nakchung and Karchung. Aren't these names funny! And my mom says that Tshewang Tashi's horse's name Dunkhar Mathra is so funny! I got surprised when she said that, I mean, Dunkhar Mathra is not so funny, is it?

Tshewang Tashi is so respected, and he is so strong! Also, he is always chosen as a leader for every battle he fought. He has an extraordinary horse who's name is Dunkhar Mathra.

I recommend this book to ages nine and below because it has many great illustrations.
---
This book is a very interesting book which is my favorite book that I have ever read. There are 13 character in this story. The character are Pemi Tshewang Tashi, Dungkhar Mathra (horse of Pemi Tshewang Tashi), Dungkhar Gyeltshen, Angdruk Nyim, Karchung, Nagchung, Bumthang's commander, Phurchung Zam, Dampa, Lhaden Zam, Sonam Pem, Sangay Zam and aum Ugyen Chenzom.

I liked this book because the story happened in real and it is about a legend man named "Pemi Tshewang Tashi" who was brave, loyal and a dedicated person. We all should be like him.

The story happened in Wangdue and in Trongsa. The story is about a war between the bumthang's army and the wangdue's army. The beginning is a happy story but the ending is a sad story.

In the beginning, Pemi Tshewang Tashi won many battle. When he was celebrating the victory of the battle a messenger said to him that his wife Phurchung Zam gave birth to a baby boy. He went happily to his village .He stayed with family for a few week because he had received a message that he has to go to a war to battle the bumthang's army. He and his army went and camped at Ridhathang. When it was night Pemi Tshewang Tashi had a bad dream that he being killed by the bumthang's army. He was a very brave man knowing that he will be dead. He fought the war and he and his army was about to lose. The Bumthang's commander and his army surrounded him and than Pemi Tshewang Tashi ran and finally came to a cliff.

They again surrounded Pemi Tshewang Tashi. They said to Pemi Tshewang Tashi to surrender but he refused and jumped through the cliff and died.

This is an interesting story. I recommend everyone to read this book. The picture's in this story is also drawn very great and clearly.

Book review by
Ugyen Tenzin Norbu
class 5
Damthang Primary School,Haa
---
"The Legend of Pemi Tshewang Tashi"is a story which gives you the information and details about the life of the great warrior Pemi Tshewang Tashi.He was a brave,and a kind person.Above all, he was a loyal and honest warrior.
I would recommend this book to everyone as you will know the bravery and victories of Pemi Tshewang Tashi
Reviewed by:Kinley Bidha(lungtenzampaMss)
---
the Book is Detailed and reader friendly. As always, reading was much better than watching the film. it is always hard to narrate a detailed historic event remembering every scenes, but reading this book was a reminiscing moment for me. character development and background was great. i think the book is favorable for all ages.
---
The story was great and educational! I loved the character design and background art. There's a good balance between the violent and comedic scenes. Also, the fight scenes are not very violent so I think the comic is suitable for all ages. Would highly recommend it.
---
Loved this book ..it brings out our old storied and legends in the form of a captivating and mind blowing experience..
---
 The story was good but would have been better if the screen-time of the war was bit longer showing the tactics and counter plays of both parties.

 I really enjoyed the idea of vector-screen for showing the speed of GAP LUNG-GI KHORLO.

 The scenario was beautifully designed and colored.

 Loved the bird's eye-view on the battlefield.

 As a viewer, the animations were bit choppy and robotic type for the movements.

 Facial expressions and body-gestures can be improved to show genuine feelings.

 The dialogues were interesting and beautifully created but I feel it bit tough for young viewers to understand.

 Really enjoyed the slow-motion in-betweens the fight during war scenes.

 Throwing some impact frames in the fight scenes could have enhanced the mood and displayed more character's characteristics.
---
The legend of Pemi Tshewang Tashi is the first 2D feature film in Bhutan. It has great arts and storytelling that brings ballad into visual of legendary Pemi Tshewang Tashi. You will be fascinated by his great talent and bravery. Strongly recommend? to every Bhutanese be it old or young, it's worth watching and reading its comic as well.✨✨
---
Such an amazing work done by the young teams of iBEST. Looking forward to reading many other comics in the future...❤❤❤
---
i have watched this animation twice and its very awesom and the story too...
those who didnt get to watch...dont worry they have already come up with comic book...so i totally urge you guys to read...
---
I've just read this Story and i'm fascinated....Great work
---
This book traces the journey and adventurous life of Pemi Tshewang Tashi with beautiful illustration and arts.
Which i would recommend all Bhutanese youth to read it...??????
---
This book is a true gift .Very interesting and love the art and storyline, totally recommend.
---
Love the art and the story.
Recommended for all Bhutanese book lovers.
---
The artworks and design are up to professional level. The reason this comic book stands out so well is that, it has merged all the elements it needs to.
---
Love the art and the story.
The way it's written, the story has its heartbreaking and sad moments but ultimately it's an uplifting story.
The colours, the illustrations, the prints all work together well.
---
One of the best retelling of the legendary ballad of Pemi Tshewang Tashi. The art, the harmony of colours and the superb execution of the art styles leaves me in great awe of the great minds who worked hard to make this work a reality.
If someone were to ask me to recommend a book, there would be no hesitation for me to immediately recommend this book.
Truly, one cannot get enough of the legendary tales of Pemi Tshewang Tashi and this book is a true testament to its magninomity.
---
We have only heard about the story being told by our forefathers, but having it in a visual form is creditable. It creates space for the children to understand and come up with their own imagination and creativity.
Overall I really liked the story and I recommend everyone to have a read.
---
Excellent storytelling and powerful dialogues it was a good read!
---
The beautifully illustrated comic the Legend of Pemi Tshewang Tashi brings out one of the most celebrated Bhutanese legendary stories. The mixture of art with entertainment--carefully crafted with creativity and innovation keeping in mind its origin is beyond applaudable. Add the comic to your read list and enjoy the journey of Pemi Tshewang Tashi.
---
The heart breaking folklore of Pemi Tshewang Tashi that was once only accessible to old rural folks was made into an awesome 2D animation film, which literally gave a new life to the story and broaden the audience base to urban movie goers. It's an animation that's so far, the best ever produced in our country, perhaps the longest and comparable to its cousins across the world. They went for nothing less than excellence.
The film has added a new dimension to the story and revived the ancient tale that was almost disappearing.

Now, with movie further crafted into this illustrated comic book, the folklore is going to reach every school and every child.
Books From Related Categories