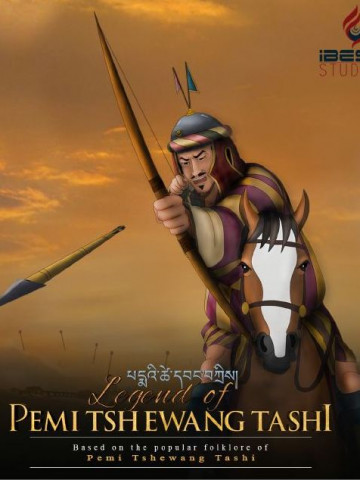 The Legend of Pemi Tshewang Tashi
Book Overview
The 2D animation feature film is based on the popular folklore of Pemi Tshewang Tashi. At the age of 27, Pemi Tshewang Tashi, the Chamberlain of Wangdue Dzongpon, Angdruk Nyim, leads a reinforcement troupe to Mangde Valley on the request of Trongsa Penlop Dungkar Gyaltshen. A father of two and happily married, Pemi Tshewang Tashi is torn between his overwhelming sense of duty and servitude towards his master and love for his family and his own life. Confronting the powerful and mighty troupes of Choeje Pem Tenzin of Bumthang is no mere feat. Victory would mean great accomplishment but the battle could also result in his death and of his soldiers. Yet Pemi Tshewang Tashi must take the journey to Trongsa. In the clash between the two rival armies at the battle of Changmani, Pemi Tshewang Tashi's troupes are defeated. He flees the battlefield, chased by his rivals like mad hounds chasing a helpless deer. But on reaching the Thomangdrak (cliff) opposite to the Trongsa Dzong, he is trapped between a steep rock and bottomless cliff. To salvage his pride and honor, Pemi Tshewang Tashi does not surrender but jumps off the cliff.
---
Customer Reviews
---
Legend served to Children
The heart breaking folklore of Pemi Tshewang Tashi that was once only accessible to old rural folks was made into an awesome 2D animation film, which literally gave a new life to the story and broaden the audience base to urban movie goers. It's an animation that's so far, the best ever produced in our country, perhaps the longest and comparable to its cousins across the world. They went for nothing less than excellence.
The film has added a new dimension to the story and revived the ancient tale that was almost disappearing.

Now, with movie further crafted into this illustrated comic book, the folklore is going to reach every school and every child.
---
Featured Books
These books have just arrived on our shelves