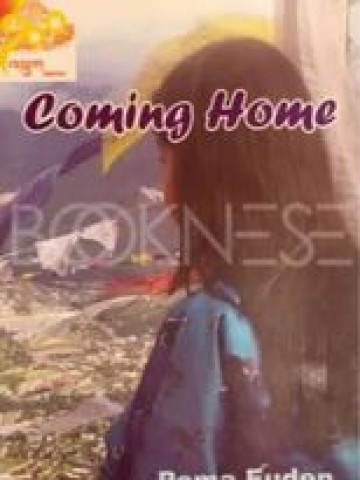 Coming Home
| | |
| --- | --- |
| Published In: | 2008 |
| ISBN: | ISBN 978-99936-33-00-6 |
| Category: | |
| No. of Pages: | 136 |
Book Overview
14 year old Tashi Choden struggles to find herself. She goes through betrayals and lots of hard times. She does not fit in, with no friends. Then her life takes a turn one morning when she meets...
---
---
Customer Reviews (15)
---
Proud of the author then and who you grew up to be.
---
One of the best books I have read plus it's inspiring that a very young author wrote it ???
---
I read this book when I was in middle school and it was one of my favorite books by our Bhutanese author.
---
I just love this book. It gave me courage to write my own book that I am willing to publish. The author must have been good in creative writing.
---
It was a fun read. The four L girls were hilarious. I read it during my middle school and I couldn't have related less to this novel.
---
Read it in one sitting a long time ago. I liked it a lot coming from a young budding writer back then. I'm sure she must have matured a lot by now in terms of her writing finesse. And I am sure she will inspire thousands of children to pick up writing now that she's a teacher.
---
The book "Coming Home " is written by Pema Euden
summary: Its about the struggles which a 14 years old girl (Tashi Choden ) had went through in her life.
Them: This books shows that no one is perfect in this world and everyone have their own set of story
---
The Book: Coming Home.
Coming Home by Pema Euden.

"This book is a work of two sisters. Tenzin Euden, the elder of the two, then 15 years, came up with the plot in the winter of 2006. Pema Euden built the story and completed the book on her 12th birthday, August 24th, 2008, in time for the Centenary and Coronation Celebration."

And what was I doing in 2006 winter? Me and bunch of my friends were involved in binge drinking after our class 12 examinations (yeah, that awkward moment in your life while you are an adult and you haven't written a book, some teenager has and you wonder and realize, why the whole world hates Justin Bieber Lol). And mind you, few of my friends were crying on a round table, with their heads close together, hugging each other not because they were knights of King Arthur, they were however, lamenting over Dzongkha paper. I however, was playing snookers and smoking cigarettes, and not to forget, binge drinking. Ha ha. Good olden High school days.


The book tells a story of a girl named Tashi Choden. Tashi, who has low self esteem and is not that good in studies. The story takes shape while she meets her friend Ugyen Tshering, Yangchen, Pema and Tenzin.

The story is similar to American Movies High School days. Anyhow, it takes you back to your high school corridors whereby friends meant everything. You will rejoice while reading, and feel slightly younger. Tashi who is raised by a single mother struggles her days, unless she meets real friends of her life. Ugyen, who joins Lungtenzampa while his brother gets transferred to Thimphu. Yangchen and Tenzin are into love. Pema aspires to be a singer.

But with supports from good friends, do they succeed in their goals? Does Tashi have more secrets to share with her friends? What is bugging Tashi so hard that she feels guilty to confide among her friends? Are there more for Tashi to digest? And who's that man whose sports car is parked near Tashi's house?

The story is interestingly said, and the novel contains 136 pages precisely. And that too, coming from then 12 years old teenager, who had just entered teenage, is legacy in itself. The book does tell us more about how our society functions, how much friendship means to a high school-er and out of all, what family really is?

I hope you find copies of this book. It surly is a good read.


1. Cover Design / Paper quality: *** stars
2. Story Content: **** stars
3. Language : **** stars
4. Clarity of stories: ***** stars
5. Cost: ?????? stars

I give this book 4 Stars out of 5, because the Cost of this book is still a mystery to me. Yes, nothing about the rate of this book is mentioned. And I am wondering, where did Pema Euden disappear after writing this book? I hope to see some of her new works, someday. :)

Ps: it would be a challenge to find both the author or the book, for I never heard about this book unless I randomly stumbled upon this copy in Mr. Passu's gaming arcade.
---
Title: Coming Home
Author: Pema Yuden
Characters: Tashi Choden, Ugyen Tshering, Tobden, Father, Kinga Peday, the Five L girls, etc...
Favourite Character: Ugyen Tshering, because he had shown Tashi the real value of friendship and care. With his help, Tashi aws able to make friends and to live her life fully.
Summary: Tashi Choden is a 14 year old girl who loves reading books. She doesn't have a father and is raised by her mother, Kinga Peday with love and care. But Tashi wasn't doing well at school. He was lonely, friendless and criticized most of the time. There was a group of girls in her school called the Five L girls group. They always bullied Tashi andade her sad. One day, a new boy named Ugyen Tshering came to her class. He became Tashi's best friend and helped her to overcome her problems. Tashi never had to be lonely again. One day a stranger came to her place and proclaimed himself to be her father. Tashi was confused. He came from the US and had come to take Tashi with him. Tashi agreed but at the last minute refused. She belonged with her friends and family even if it was adopted.
---
This book is one of the few Bhutanese author book I read and I have to say that this is definitely one of the best book I have came across. Nobody is perfect and this book shows that.
---
This book "coming home" was one of the best book I have come across. It is written in simple english and isn't that much of a problem to understand what the writer wanted to convey through her writing.I like the character and the way she describes everything, it give a lot to imagination. This book will always be one of my favourite. To give you some spoiler this is a story about a high schooler name Tashi choden and her life with her friend during high school and how they help each other to overcome their fear and become their better self.
#kinley gyelmo(Gelephu HSS)
---
Coming home is the most interesting book I have read till now. It is written by a bhutanese author Pema Euden. Summary: 14 years old Tashi Choden struggles to find herself. He goes through betrayals and lots of hard times. Then one morning hear life takes a great turn when she meets a man talking with her mother. She asks "Who is he mother". He mother replies "He is your father Tashi." Tashi was speechless. The man came forward and told everything about her real mother and about the past. From that day onwards she started hating her mother for hiding the truth. One day her father decided to take her to USA and when he told her that, she immediately refused her father and said "Father I am very sorry but I don't want to leave my mother and I will even miss my friends please. The father agreeed and said "But I will come to you frequently." Tashi also realised that no one is perfect at the first but if we try hard enough we will be perfect. She saw her mother in a deep thought and she knew that she had made the right decision. Tashi smiled and felt proud of herself for finally coming back home. Review summbited by (Bidhya Subedi Class 3, Peljorling Higher Secondary School)
---
No matter how many times I read this book it will always be one of my favorite:)
Read this book for the first time when I was in grade 8 and it still is one of the best !
---
"Coming home"is a Bhutanese novel written by Pema Yuden.The main character is Tashi choden,a student of lungtenzampa middle secondary school.She faces lots of difficulties and challenges.She didnt have any friend but one morning a friend comes in her life and everything changes.Its a beautiful story and I would like to recommend this book to everyone.
Reviewed by:kinleyBidha(lungtenzampaMSS)
---
This debut novel of her is far better and simple than Lomba. The characterization is great and fun to read. The theme of story about the adoption and love protrayal is great and mind refreshing.

Do read la

☺☺☺☺☺
Books From Related Categories