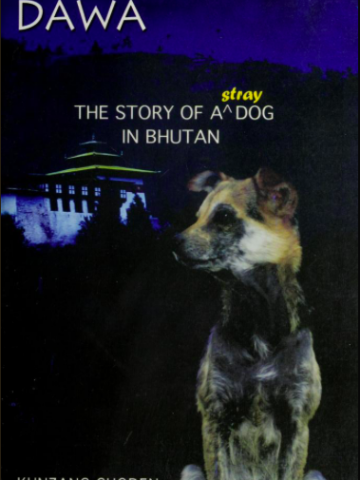 Dawa: The Story of a Stray Dog in Bhutan
Book Overview
Dawa looks like just another scruffy Thimphu street dog, but don't be fooled: he understand Dzongkaha, he has an urge to see the world and his bigger-than-normal brain is matched only by his compassionate heart. His is an extraordinary life; follow it from its tragic beginnings, to his ascension as the legendary Leader of Howling in Thimphu, to the miracle that saves him. Dawa's story will appeal to all who have experienced life's rigors - but have never given up hope on the possibilities.
---
Customer Reviews
---
A good book - (Spoiler free review)
Dawa's story is not just a story of a stray, it is a tale of Bhutan disguised as an adventure story. The people, the places and the processes in Bhutan are explained through the eyes of a puppy, and later a dog. Read this book to follow the adventures of Dawa as he overcomes hardships and difficulties at each turn in his life. There is a level of spirituality involved; a must read for people who are interested in reading books about adventure/fantasy and Bhutan.
The writing style makes the readers feel connected to the main protagonist - an animal with an impressive amount of humanity.
---
Dawa is my all time favorite novel. When I first read "Dawa the stray dog" in 2009 I really enjoyed reading. Besides, Dawa is very smart, lovable and funny dog. Just like a human Dawa also travelled to Thimphu by crossing the passes. He is exampleary leader in howling pax. He has capacity to understand dzongkha. He lives in Changangkha looking over the Thimphu city. Dawa is not just a stray dog but extraordinary dog.
Please! flip the pages to Know, why he is extraordinary dog?
---
Featured Books
These books have just arrived on our shelves