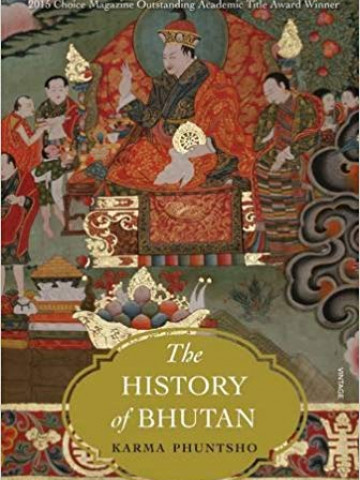 The History of Bhutan
| | |
| --- | --- |
| Author: | |
| Published In: | 2013 |
| ISBN: | 8184003110 |
| Category: | |
| No. of Pages: | 704 |
---
* Available in (book stores)
DSB Books, Junction Bookstore, Megah Enterprise, Pe Khang Books, Trinkets & Bookworld,
Book Overview
In recent years, the remote kingdom of Bhutan has increasingly attracted the attention of the world. In 2008, it emerged as the world's youngest democracy and in the same year crowned the world's youngest monarch. This was followed by the new King's colourful wedding in 2011. Today, it continues to enchant the rest of the world with its policy of Gross National Happiness and has become a very popular destination for travel. But, despite its growing popularity and the rising scholarly interest in the country, Bhutan remains one of the most poorly studied places on earth. Karma Phuntsho's The History of Bhutan is the first-ever attempt to cover the entire history of Bhutan in some detail in English, combining both traditional perspectives and modern academic analysis. Written by a leading expert on the country, the book tells the story of Bhutan in a narrative style interspersed with some analytical and topical discussion, and numerous citations and translations from earlier writings. It is primarily a historical account, but it also includes substantive discussions of Bhutan's geography, culture and society to give the readers an incisive introduction to the country.
---
---
Customer Reviews
---
If only our history textbooks are as good as this. I loved it and I got to know more about it when the author himself talked about it as a guest on Radio Valley 99.9. The clip is still available on Youtube: https://www.youtube.com/watch?v=-nq1-OHOQ5w and I strongly feel that whoever reads this book needs to listen to what he has to say. You not only understand the nuances of the book more, but also appreciate it all the more.

Besides, I am this book will also serve as a prepping material for the graduates sitting for RCSC or just anyone who needs to take a peek into the Bhutanese history or simply brush your history knowledge on Bhutan.
---
A great book for all who loves Bhutan and wishes to learn more about its history. Truly a treasure for those who wish to expand and deepen their knowledge about the country, people and its history.
---
Enlightening and research based
---
If History was narrated to us like in this book, we wouldn't have slept in the afternoon classes. This book allows us to appreciate history in a most thrilling way. History will never be the same again after this book. All Hisotry teachers must own a copy each of this and use it as the mother document. It will not just give us the depth of knowledge but also that freshness in narrative.
---
Bhutan history is not among the favorite subjects among the students. An average Bhutanese would know more about history of some other countries than they know about our own country. The history told to us in the school were merely fragmented events of perceived importance, lavishly glorified and often giving an impression of fairy tales. The core element of historical narrative is missing, isolating events and historical figures at superficial levels.

It can be justified that history taught in schools, which remains the only historical narrative most of us live with, is only foundational reading and therefore can't be used as the yardstick to measure the width and depth of historical content on Bhutan, but even beyond school our frustration will only grow to discover that there aren't much to explore further.

The History of Bhutan by Dr. Karma Phuntsho therefore is the answer to a national longing for a comprehensive narrative that connects the dots and illuminates the dark corridors of our historical memory. It not only provides a better alternative to the only few historical sources we depended on, which are ironically documented by either Indian or western historians, but also gives an unbiased account based on in-depth researches.

The 599 pages of the book contain captivating details and authentic accounts of our historical events, from the prehistoric period to the modern period, through a long thrilling medieval period. Bhutan history suddenly begins to sound real and without the gross exaggerations it's already so compelling.

This book is definitely going to disappoint some of us who pride in our fairy tale like history, where we were made to believe in superpowers and flawlessness our historical figures, but knowing them with their humanly weaknesses and them with the abilities overcome the odds gives us stronger reasons to appreciate their contributions.

I grew up hearing secretive stories of assassination of Zhabdrung, and I remained confused till recently as to how Zhabdrung, who went into permanent retreat on his own in Punakha Dzong, could be assassinated. This book presents the detailed account on the question of succession after Zhabdrung, and how controversies emerged over the incarnations. In fact, the game of politics played over multiple incarnates gave rise to the beginning of the era of lay rulers. Only this book clarified that the stories of Zhabdrung I heard were of different incarnates and not of the great Zhabdrung himself.

The detailed accounts of different plots, conspiracies, rebellions, and assassination during the internal conflicts over long period of time make our history one of the most thrilling to read from a general reader's point.

The accounts on the wars we fought with Tibet and later with British India make us see how we struggled, opposed to the easy victory we were told, to defend the sovereignty of this tiny nation even in those times, and one can't help but feel proud of how our leaders played their cards well since Treaty of Sinchula, and how over the century they managed to amend the treaty to ensure our sovereignty. It's the terms and use of certain words in these treaties that saved our independence when over 500 princely state disappeared to make up the republic of India, including Sikkim in 1975.

We like to believe that everything fell in place after the emergence of Jigme Namgyal and very much so after 1907 after King Ugyen Wangchuk was enthroned as the first king of Bhutan, but this book will surprise us with accounts of how much they had to go through to establish their dominance and maintain it. The same struggle to suppress fractions of power continued even during King Jigme Wangchuk's time. The changing dynamics and political issues both from within and outside during the successive kings, beyond the lists of developmental activities we read in our textbooks, and how they used their tact and steadfast leadership to overcome those, gives us stronger reasons to appreciate and truer meaning to our loyalty to the golden throne.

Without reading this book, no Bhutanese can truly separate Myth and Legends from true historical accounts and therefore understand the depth of our history and appreciate the magnanimity of this last surviving kingdom between the two biggest nations on earth.

If so much resources were there, why couldn't earlier historians bring them to us? Well that when we must acknowledge Dr. Karma Phuntsho's unique strengths as a Buddhist scholar with mastery over choedkey, complemented by his experience as academic researcher at Oxford. These two attributes of his gave him special access to the hidden world of Bhutanese history in Buddhist texts and those that were archived in British libraries in England.