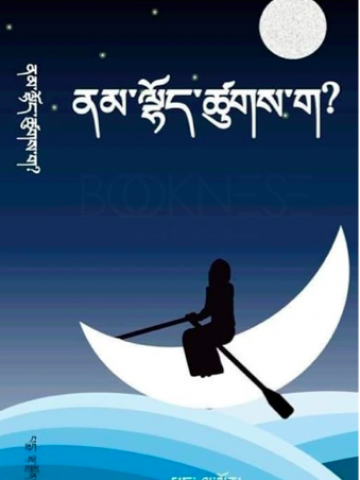 ནམ་ལྷོད་ཚུགས་ག (Nam Hay Tsu Ga?)
| | |
| --- | --- |
| Published In: | 2021 |
| ISBN: | 978-99980-750-09 |
| Category: | |
| No. of Pages: | 133 |
Book Overview
'Nam Hay Tsu Ga?' is a story of a girl who goes through a series of obstacles in the quest for her dream. Not having a set goal, she remains lost and lands up facing many challenges in life. Her goal was to conquer the pinnacle of the mountain but she was wandering in the valleys. Gradually she envisages her dream in life and starts pursuing it. ༉ ནམ་ལྷོད་ཚུགས་ག་ཟེར་བའི་ སྲུང་འདི་ནང་ མོ་མོ་རའི་རེ་བ་ ངོ་མ་ག་ཅི་ཨིན་ན་ ཧ་གོ་མ་ཚུགས་པར་གཞན་གྱིས་ག་འབད་སླབ་སར་ མོ་གིས་འབད་ནི་དང་ གཞན་གྱིས་ག་ཏེ་འགྱོ་སླབ་སར་ མོ་འགྱོ་སྟེ་ མཐོ་རིམ་སློབ་གྲྭ་ མཐར་འཁྱོལ་བའི་ཉིནམ་ལས་འགོ་བཙུགས་ མོ་གི་རྒྱུད་ལུ་ ག་ནི་བ་ལྕི་བའི་ ན་ཟུག་སྦོམ་སྦེ་ར་མྱོང་ནུག། མོ་རའི་མི་ཚེ་ནང་ལུ་ རེ་བ་ཡང་ དཔེ་གངས་རི་སྦོམ་བཟུམ་ཅིག་ཨིན་པ་ཅིན་ རེ་བ་འདི་ རིའི་རྩེ་མོ་གུ་བཞག་སྟེ་ མོ་ར་རིའི་མཐའམ་བདའ་སྟེ་ སྡོད་ཡོདཔ་ལས་ ལམ་འཚོལ་འཐོབ་ནི་ལུ་ ལཱ་ཁག་བཏང་ནུག། དུས་ཚོད་རིམ་གྱིས་རྫོགསཔ་ད་ མོ་རའི་རེ་བ་ཚུ་ག་ཅི་ཨིན་ན་ཤེས་ཞིནམ་ལས་ཚུར་ མོ་རེ་བ་འདི་འགྲུབ་པར་འགྱོ་བའི་ལམ་ཁར་ རྐྱེན་ངན་ས་སྨུག་གིས་སྤུར་ཏེ་ མིག་གི་མ་མཐོངམ་མ་ཚད་ དོ་རུང་ཡང་ མོའི་རྐངམ་གུ་བཤེད་དེ་ ཚེར་མ་ཚུ་གིས་བཟུང་བཞག་སྟེ་ ལམ་འཚོལ་འཐོབ་ནི་ལུ་དཀའཝ་སྤྱོད་ཡོད་པའི་སྐོར་ལས་ཨིན་མས་གོ།
---
---
Customer Reviews
---
ད་རེས་ནང་པར་གསར་སྐྲུན་འབད་ཡོད་པའི་སྲུང་དེབ་(ནམ་ལྷོད་ཚུགས་ག)ཟེར་མི་འདི་བྲིས་དགོས་པའི་དམིགས་གཏད་གཙོ་བོ་ངོ་མ་འདི་རང་ང་བཅས་རའི་བཟའ་ཚང་ཚུ་ནང་ལུ་སྟབས་བདེ་ཏོག་ཏོ་འོང་བའི་ཐབས་ལམ་བཟུམ་ཅིག་དང་རང་རང་སོ་སོའི་རེ་དོན་ག་ཅི་བཟུམ་ཅིག་ཡོད་རུང་རེ་དོན་འདི་རེ་བའི་ཕྱོགས་ལུ་རང་མ་ལུས་པར་ལེགས་ཤོམ་སྦེ་སེམསཤུགས་བསྐྱེད་འདི་རེ་དོན་ཚུ་གེ་ར་བསྒྲུབ་ཚུགས་པའི་ཐབས་ལམ་ལུ་དམིགས་ཏེ་སྲུང་འདི་བྲིས་ཡོད་པས་གེ་རང་གིས་དགའ་དགའ་སྤྲོ་སྤྲོའི་ངང་ལས་གཟིགས་པ་ལེགས་སོ་ཟེར་ཞུ་ནི་ཨིན་ལགས།
---
Nam hay tsu ga is a book that mainly talks about the bond that exist among the family members . The girl in the story is being portrayed as a indefatigable. In Order to achieve her dreams and goals she is able to endure all the hardship that she experiences. You all should read this book . And you ll be surprised how good it is . So grab a copy each .
---
This story contains dual scenario. first story reveals the truth of the human characteristics and i do feel like this is actually the true as i have witnessed such type of scene by myself. the second one talks about the ambitious girl with highest aim and how she managed to over come those obstacles each time she faltered.
---
Honestly this is the first dzongkha novel that i had completely finished reading 😂 It is actually a dual plot story of a girl wangmo and pema...It makes me sobber when i think about the struggles that wangmo had gone through while trying to ignore her feelings and protecting her children. No wonder tears rolled down when i was reading the part where dorji ignored wangmo and remarried because the faith was cruel enough to apart the two love birds😭😭i recommed you all to read this book because this is the book that you have been looking so far.
---
This book is all about the obstacles that she has gone through.Moreover it is highlighted on Bhutanese culture and tradition.This book is worth reading and inspiring for all the teenagers.
Books From Related Categories