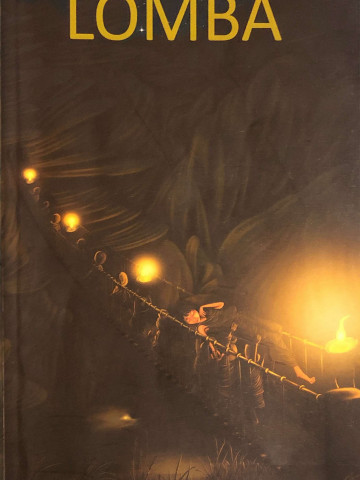 Lomba
| | |
| --- | --- |
| Author: | |
| Published In: | 2016 |
| ISBN: | ISBN 978-99936-723-0-2 |
| Category: | |
| No. of Pages: | 203 |
Book Overview
Seday is devastated when she learns that she has to leave Thimphu and move to Haa. However, she is in for a surprise when she begins to settle in and actually likes Haa. Everything goes on perfectly normal until the night of Lomba.
---
---
Customer Reviews
---
I found this book really informative as being a Sharshop, I didn't know really know about Lomba, which is usuay celebrated in the western part of Bhutan. But after reading this book, I had a quick and brief overview on how Lomba is celebrated and the beliefs and stories about it. Not only that, this book gives us valuable life lessons, such as; we should never judge a book by its cover, and that everything is not always as it seems like. I enjoyed reading this book and would recommend this book to others too.
---
Seday moves to Haa from Thimphu. At first she feels bad but get used to it, in addition, She gets two new best friends and they tells her about the upcoming Lomba festival. They shares an old believed story but Seday wants to prove it untrue. But the story was true and Seday found herself in the village of Lus she was surprised and at the same time she was realaxed to see Dawa Samdrup ( another human ). They plans to escape and their mission was to find the lost Luethrim. Dawa suspects Rigzhen ( Lu ) to be the one stealing it. Seday and Dawa searches all over the corner at Rigzhen's room and finds a key hole in the chest of the table. They opened it with a key, found in the drawyer of the table. Finally they found the lost Luethrim and the king punished Rigzhen mercilessly. Lastly, Seday and Dawa reached back to human world and more over the world of Lus get back to a peaceful place again.

Name : Sonam Yangchen
Grade : 9
School : Tashidingkha Central school
Dzongkhag : Punakha
---
The book tried so hard to describe a magical adventures focusing on Loma culture in Haa but for me seriously! 🙁 I was expecting a much more great book with a mind blowing content from the author but for me it literally didn't live up to my expectations. Throughout the book it was a cringe to even read aloud in my brain.

The starting of the book and the friends (character) description are great but from the page when she was dragged to the strange land it feels like she is just simply writing without no sense of taking readers with the story. It lacks emotion and imagination. It would have been great if she could fully described the setting more enthusiastically.
---
Seday the protagonist in Lomba doesn't sound so enthusiastic about going to Haa having to leave behind her close friends in Thimphu. Nevertheless, she had to tag along with her parents as her father lands up with a good job that paid better and so does her mother who easily lands up with a job by virtue of being a teacher.

Seday wasn't actually looking forward to her schooling in Haa. She misses her best friends in Thimphu but to her dismay, finds out that they had taken her for granted. However, the strong characteristic in her makes her move on and as time passes by she gradually settles down with her new friends especially Tenzi and Pem in her new school. She finds out that Haa is actually not so bad and she starts to feel at home. Everything was going perfectly well for her.

And then Lomba starts. And that is where the mystery lies. What happens on the night of Lomba if you don't eat your dinner which is usually Honteys-the cuisine from Haa made on the night of Lomba? What is the mystery about? Is it just a belief? Or does this really happen?

She is being provoked by her friends that if she doesn't eat dinner on the night of Lomba she will be in for a surprise- a very bad surprise. They tell her mysterious stories about Lomba that doesn't go very well with her. She doesn't buy their stories at all and earns the title of being a very stubborn girl.

Seday decides to challenge her two friends to forego her dinner on the Lomba night to prove her friends wrong about the mystery stuff. She feels the whole ritual is a waste of time and stupid. However, on the night of Lomba she finds herself being carried away to a strange land amongst friends and people she had never had any real conversation with surrounded by alien like creatures. That is where the real story of Lomba starts.

Seday's experiences in the bizarre world of strange people is put very explicitly, unequivocally and imaginatively in modern contemporary English that is very much relatable to the younger generation of her age.

Through this book of fiction, the author brings out the core values of friendship, relationship, family, trust, good vs evil and most importantly the message that we should never take anything for granted.

The cover art is done very well that matched the imagination of the author and the blurb page leaves a great sense of suspense that kind of arises curiosity in the readers. The author could have worked a little extra on the layout and design and the quality of printing. If not for this little shortcomings, the book has come out very well in terms of the quality of language and story.

Done in 203 pages the young author of 19 years of age has brought out a book of imagination targeted at the young Bhutanese audience. The cost of the book is Nu.295 and most importantly 30% of the proceeds from the book will go to Tarayana Foundation. It may be worth noting that she published her first book, "Coming Home" in 2008 making her the youngest author in Bhutan and the proceeds from the earlier book were also donated to Tarayana Foundation.

'Lomba' was launched by Her Majesty the Queen Mother Ashi Dorji Wangmo Wangchuck on 28th June, 2016 at Tarayana Foundation.