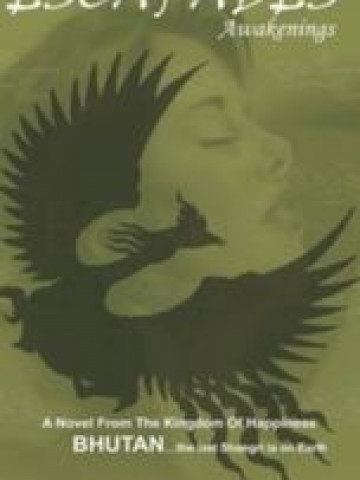 Escapades Awakenings
| | |
| --- | --- |
| Published In: | 2013 |
| ISBN: | 978-93-82359-55-5 |
| Category: | |
| No. of Pages: | 590 |
Book Overview
The book presents a uniquely different take on life in Bhutan, moving beyond the clichéd descriptions and traditional tales to lift the veil of misty romanticism and offer a glimpse into the stark realities of its society. Peopled with strong characters and spanning three generations, the novel Escapades portrays the harsh conditions, especially in the life of its womenfolk and children, as they deal with the shocking and tough conditions to eke out a survival in the beautiful but inhospitable mountainous terrains. The story comes alive through the simple but hard-hitting dialogues of the chechey's or daughters of the interior village of Mamung, caught in a mesh of deceit, exploitation and back-breaking labour as porters to arrogant and over-indulged government officials or dashos. Covering a span of almost eighty years, the novel takes a detailed and introspective aspect, ably aided by the descriptions of Bhutanese life, culture, traditions and religion. The female protagonists show indomitable spirit of survival and inner strength, as they struggle to overcome the bitter conditions and social evils that make them susceptible to exploitation. The tale of how Thruebaab, a simple fatherless village girl, overcomes her humble beginnings to reach the highest rung of political power and corporate success is indeed mesmerising, as is the ultimate sacrifice of her daughter Choedren who leaves behind all the trappings of material success to embrace Buddhism guided by mentor Chencho. A refreshing novel from the land of misty mountains, mythological tales & Gross National Happiness (less)
---
---
Customer Reviews (6)
---
The picture of the society portrayed in the pages of Escapades Awakenings was a truth hidden in many parts of our country in the past. It is a good book to grab and read!
---
Escapades the third Bhutanese authored novel I read as a high school student decade ago. All I remember now is that the book is based on women's social village problem in the past. It's how innocent women fell prey to city officials when they visit rural areas. Which eventually led to many father less children. It portrays the struggle and shame of mothers when they cannot name who the biological fathers are.
---
Escapades Awakenings has been my companion for the past few days and it proved to be a true page turner. This novel exposes how rape culture and child labour existed and how it was normalised in the past. Thruebab, an innocent village girl paves her own way through a remote village from Zhemgang to being the richest person in Bhutan by using challenges of being a women to her advantage. I still cannot fathom how a fictional character could inspire me to this depth.
---
A 590 paged novel written by a first timer Bhutanese author Doji Dhratyul, Escapades Awakenings is a uniquely written book about the Bhutanese life styles in the remote village and the life styles in the present generation. The novel which spans over three generations portrays how the rural girls in a remote village of Zhemgang are exploited by the town/city dwellers or the civil servants (Dashos) in particular. The book surely disseminates the knowledge of women's fate in rural villages, where most of the present Bhutanese urban generation hardly has the knowledge of it.

Some of the common Bhutanese phrases for culture, tradition, religion and languages are also used frequently with the phrases explanation, which in fact gives truly a Bhutanese insight. The book revolves around the women's rural lifestyle, tragedies, urban lifestyles, culture, religion and traditions and little thrill. It also emphasizes on how the rural people were used as porters for the visiting officials, where even young girls are burdened with heavy luggage.

It gives the picture of how a rural girl was exploited by a high ranking government official, which eventually has led to the birth of a fatherless daughter; it was an unofficial kind of gesture to impress the high ranking visiting officials by fulfilling their needs. It's always the women who had suffered in the end.

The official never had the knowledge that he has a daughter but even if he knows perhaps there's nothing he would have done. So in a case, after some years later, the same official visited their village again, where he was offered a young girl, Thruebab but the girl being a first timer in such cases managed to escape for good. She later learned from her mother that the visiting official was her father!

Her mother was in complete bliss, when she learned that her daughter has escaped from an unlawful activity. Their family never had a man except a young baby boy, younger brother of Thuebab, born from a local Casanova with whom Thruebab's mother had planned to marry. But unfortunately, he left the world soon.

It has become a custom in their village that whenever any high ranking officials visit their village, the village head or representatives arranges some tolls to fulfill the official's needs. So in fact, the village representative or head manages by hook or crook to get some young girls to entertain the officials, they carry a notion that if they fail to impress the officials, they wouldn't bring in much development in their village.

Thruebab managed to reach Thimphu with her first love, but she got cheated too, since her lover was a married man with children. She gave birth to a daughter from her first love. After some years working in Thimphu, Thruebab becomes one of the richest persons in the country by owning a large company and she educated her daughter at the States. Which later Thruebab hands over the company to her MBA graduate daughter and thereafter Thruebab had planned to get into religious practice with her old primary teacher, Chencho at Aja Nye, Mongar. Thruebab studied till primary level at her village, where her teacher had fallen in love with her mother, but it was an unsuccessful story. Hence, the teacher got into Buddhist practice which was soon followed by his student Thruebab.

The book also touches some aspects of Bhutan's transition to constitutional democracy from Monarchy and some references into the future. The author took around six years to complete this amazing fiction novel, which also has some facts in it. Some of the incidences mentioned in the book had gone lots of changes and some of the incidences or traditions are on the verge of endangerment. It is worth reading the book especially for those who are interested in knowing the happenings of the rural life in far-flung tiny village although some incidences/traditions continue to be practiced even in our present days.
Note: no proof read.
---
This book by the first timer author Doji Dhratyul talks about the life style of a remote village and the current generation of people living in Bhutan. This book is rich in terms of cultures and traditions of Bhutan. Through the character and story it tells about the love of a single mother towards her daughter and the hope to raise high among the harsh life. This novel spans a three generation of a family and it talks about the unfair of treatment of village girls in Zhemgang by the higher official like civil servants (Dashos) without the knowledge of outsiders.

This book give a clear insight of Bhutan. It tells about the single mother who faced herself a trouble when she was young. She was also a victim of those civil servants which in that time the village girls are often used as the subject of interest to Dashos like a offering. It was a disgraceful tradition in their village where only the higher people have a power to control and low people can do nothing but accept their own fates.

The book is typically a Bhutanese culture and tradition oriented book and it gives you a multi-themes and lessons.


Reviewed by Pelden Wangchuk
LPU
---
Escapade Awakening is a powerful story told with brutal honesty; the work of fiction is a raw reflection of life in rural Bhutan from the past decades. Such story can only be told as fiction, otherwise one can risk exposing the shameless stories of many civil servants who walked into the villages.

The great book could have been wrapped in a better cover and given a more suitable name; I would have called it Thruelbub after the name of the strong female character in the book.
Books From Related Categories