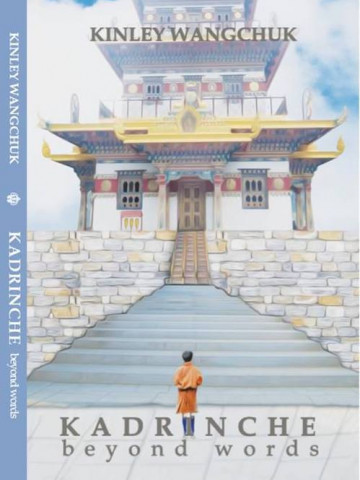 Kadrinche, Beyond Words
| | |
| --- | --- |
| Author: | |
| Published In: | 2015 |
| ISBN: | 978-99936-958-0-6 |
| Category: | |
| No. of Pages: | 198 |
Book Overview
"Kadrinche, Beyond Words" is a story of a family overshadowed by an unfortunate turn of events. It is a record of a father's fortitude to build his children's future and a story driven by love, gratitude, success, respect, remorse and human dignity. Considering the profound difficulties a family, that was once dubbed an ideal family, goes through because of one person who chose change, the story is heart-wrenching. It keeps the readers glued to the story from start to finish.
---
---
Customer Reviews
---
"Kadrinche beyond words" is about Wangchuk who is happily married to a young girl and they have four lovely children. But things does not always remain same. On reaching town Wangchuk's wife Karma changes under the influence of her friends. And later she leaves her husband and her childrens. After that Wangchuk brings up his children all on his own.
My favourite character is Wangchuk because he is kind-hearted and forgiving. He is also very hard-working and a very good father to his children.
I like this book because it teaches us that life is full of suffering and it takes courage to live through the suffering.
I suggest you add this book to your reading list because the book shows how children suffer when their parents get separated.
---
kadrinche beyond words is a heart touching story which teaches us great lesson as well as it keeps the reader interested till the end.
I would recommend this book to everyone as this book shows the sorrow of a person's life and how the person goes through it.
---
It's a simple good book worth 200 pages. Authored by Jolly Kinley Wangchuk sir. The most important thing a father can do
for his children is to love their mother. So love your beautiful wife unconditionally. It really touched my heart and gave me a life lesson to be a good husband and a person… and the importance of parental love to children.

This book tells about how our life can be so brutal at times. But the most important thing is to stand up, face it and fight back of our troubles. Life can treat us cruel at times but it can also treat us with joys and satisfaction. I would like to recommend everyone to read this book.


Pelden Wangchuk
LPU
---
Wangchuk, a credit officer, gets reduced to the lowest level of life when his wife Karma leaves him. But I liked how Wangchuk faces these problems with some of the Bhutanese values and dignity.

The Kadrinche brings various domestic problems in Bhutan which are either not known or addressed by victims just to maintain individuals' pride and dignity.

The story is lucidly written with predictably realistic plots. With the increasing domestic violence cases in Bhutan, I am sure someone you know or either you might have experienced some parts of Wangchuk's life.