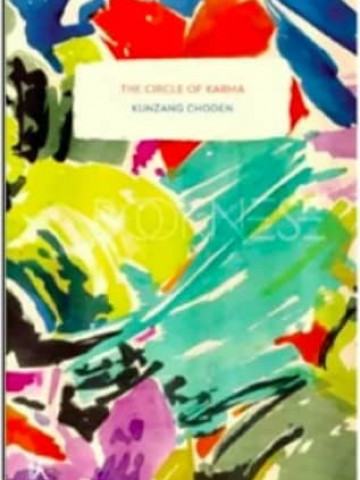 The Circle of Karma
| | |
| --- | --- |
| Published In: | 2005 |
| ISBN: | 81-86706-79-8 |
| Category: | |
| No. of Pages: | 332 |
Book Overview
Caught in the everyday reality of household life, fifteen-year-old Tsomo is suddenly called upon to travel when her mother dies. She makes her first journey to a faraway village to light the ritual butter lamps in her mother's memory. Beginning here, her travels take her to distant places, across Bhutan and into India. As she faces the world, a woman alone, Tsomo embarks on what becomes a life journey, in which she begins to find herself, and to grow as a person and a woman. The first novel by a woman to come out of the Himalayan kingdom of Bhutan, The Circle of Karma, written in English, is rich in detailed descriptions of ritual life in Bhutan. The measured pace of its prose, the many nuances of the story, the different levels at which the narrative works, weave a complex tapestry of life in which the style and content are closely interwoven, each informing and enriching the other.
---
---
Customer Reviews (12)
---
The story focuses on the pride a man carry with them and how women are meant to accept the stereotypical notion of a society of "men being superior than women"!Tsomo can be related to many of us who might have faced or struggled with bitter experiences of betrayal, sorrow and hardship in leading a normal life.Is being born as a woman or a girl a sin?.The story written by a great author who shares the cause and effect of karmaic deed with the title as 'Circle of Karma' and this novel is indeed uplifting our old tradition and culture which were there in the history.The religious practitioners and their true faces can be clearly understood in the novel.The story takes us around the places and experiences a lonely woman gets as she embarks in a journey to find her purpose in life!!!
---
The circle of karma, a true novel that depicts the cause and effect of what we do in real life. The journey of the protagonist through problems, chaos and all kinds of abuses brings tears to the tiny eyes. I must say every Buddhist should have a flip-over of this novel.Happy Reading
---
The book is rich in portraying the prejudiced culture or belief that the Bhutanese were adhering to, back in those days of underdeveloped stage. And it sure has a strong message from the feminist point of view, in which we get to see the protagonist; Tshomo,a female deprived of the opportunities given to men in the society, charged as guilty for bearing a child while ignoring the cruel deed of a man (Wangchen) and inhumanely abused by those of animal-like creatures, when the protagonist was striving to survive in this prejudiced society during the improvement of Road Transportation facility in our country. A deep sense of insecurity amongst women during those days is convincingly embedded in the author's narrative. The protagonist is then taken into different settings (across Bhutan) in pursuit of the 'purpose of life' and further leading through the paths of Dharma. Hence the book has the capacity to strongly empower women with their own deserved freedom.
---
This story tells us about the life in rural area and people's belive towards supertition beacuse in this story protogonist Tshomo who suffer in village beacuse as a woman they were not given equal chance as a boy to study though they have an intrest to learn. Tshomo who always wants to learn more and know about religious wil suffer in her village as they are never given an equal opportunity as man . Tshomo as a elder siblings wil suffer a lot when her mother dies when she is still young. While after her mother passed away she will get married with Wangchen and she wil have baby but we will find that her baby was born death , after that she will suffer from a very misreable diease as her stomach will keep on swelling as a result of that her husband leaved her and got married with Tshomo's sister Kesang . Tshomo being a poor girl will be not able to tell anything to them instead she will run away from her village and from this point she start her journey and she will travel at differnt place from Bhutan she will reached to India and Nepal and start her new life at Kalimpong by learning religious but in between she wlil face a very miserable misfortune beacuse of her karma.
From Kalimpong she will move back to Bhutan and she will spent rest of her life as nun because she thinks that by doing religious work and following Bhuddist teaching is a main path that will lead you in every direction.
I as reader enjoy reading this book because from this book we will come to know what is mean by karma and the power of Karma is something that no one can defeat and to have good fortune and karma in our life we should do good things .From this stroy I conclude that "What you sow you reap beacuse what we does to other will come back to us beacuse its a power of karma.
---
The circle of karma.
Published on :2005
ISBN:978-8-18-670679-4
Page number: 316
Category:Fiction
Tshomo is the third child and the first daughter among the twelve children that the mother has given birth to.
She was interested in religious but couldn't accomplish her dream as her father believes that girls are meant to work.
One day an unexpected thing happened whereby her mother left her. She had to faced the responsibility of her mother at an early age. Though she couldn't resist the pain, she was able to survive. One auspicious day, she went to Trongsa to offer butter limp for her mother's death anniversary. On her way she meet with the men called Wangchen and married him.
She went to his village and introduced her self to his family. Later she came back home alone as he had works to be done.
After reaching home she discoveres that she was pregnant. She was frustrated and afraid as pregnant women were treated badly if there was not father. Fortunately, Wangchen came before her delivery. But she gave birth to a dead baby and became ill.Moreover Wangchen begin to ignore her and married with Kezang, her younger sister. Tshomo was hurt and left home whereby she struggled to stand on her own feet..
Thank you
Dechen
Tashidingkha Central school
Key Stage 4
---
Tshomo, the protagonist struggles as she was an elder sister in the family. Her journey begins after her mother's death. She met with Wangchen when she was on her way to Trongsa to offer butter lamp but Wangchen soon left her and married her younger sister kesang. So, for that reason she left her home and begins her new life journey. She works along the roadside of Thimphu to Phuentsholing. This is where she mets Denchen Choki who becomes her close friend even though she is much younger than her. Together they travel towards Kalimpong where Tshomo mets with her brother. To earn their living, they begin to weave and sell different pattern bags. After a while even Dechen married and left her alone. She travelles to Dorjiten with some of her neighbors for pilgrimm and further more travel to Nepal where she mets ani Decho and Ani Decho gave her prayer beads so that she could gain merits. They also visted Tso Pema in India where she met Gomchen Lhatu and later married with him. He was a laymen who goes with young women and later he left her. One night she had a frightful dream about the Rinpoche whom she had met earlier. This Rimpoche had cured her karmic illness(swollen belly) . When she went to visit the Rimpoche, she found out that he has passed away. She decided to live near memorial chorten and follow religion till the end of her life.
Reviewed by-Rinzin Pelmo
10 D, Tashidingkha Central School, Punakha
---
The novel tells the story of Thimphu, a young girl who embark on the difficult and lonely journey of her life. Tshomo travel, which begin after her mother's death, take her away from her family and leads her across Bhutan and into India.
While, Tshomo seeks to find herself and a life partner and grows as a person and a womam
---
The novel reveals the stereotype society of Bhutan during the olden time. Tsomo, our protagonist faces internal and external climax due to the belief they had on 'Karma', cause and effect. She have to face challenges due to her society in which men are considered superior than women.
After her mother's death she was forced to travel and she did until she reached Indian plain, Bodhyaya and find eternal peace.
Novel had a good message on gender bias(men are superior than women) and religious believes.
This is the second book I had read by Kunzang Choden and after reading her book I never felt something is missing because she took the readers to reality.
---
This is my first and favorite read by Author Kunzang Choden. The book is wonderfully and satisfactorily written with Bhutanese insights focusing on a Bhutanese girl Tshomo. The story follows Tshomo who travel across Bhutan and India to search for an answer. What is the purpose of life? Can a girl travel alone across the Bhutan?

The theme focusing on woman empowerment and freedom nicely crafted into a beautiful story. You will be in a long journey with Tshomo along the book. You will experience the life of Tshomo with trivials and difficulties yet found solace at the end.

Do read this book and spread the love la!
---
We owe it to this book for lighting the path and leading the way for all of us.
---
This novel is about typical Bhutanese girl known as Tshomo who dipicts the most character of Bhutanese women. Her life is in turmoil and suffers from sickness. Despite being illiterate she travels from one of the remote place to the Indian plain, Nepal and Bodhgaya as a Pilgrim. Her journey is full of hardship and struggle. Gradually, she becomes nun.
Explore yourself by reading a whole book by Kuenzang Choden, why Tshomo become nun ?,why is it called "The Circle of Karma"?.
---
It's been years since I read The Circle of Karma and I still have vivid memory of the arduous journey Tshomo takes. The story is almost like a endless nightmare one has across long nights, but then it somehow relates to stories my mother told me about the lives of people during the road cutting from Phuntsholing. Our people were always resilient against the physical hardships, and even when I read the book the most heartbreaking parts are the episode of betrayal and abuse and not the backbreaking hardships.

For putting Bhutan on the literature map of the world, for being the first Bhutanese book to be translated into multiple languages and for inspiring generations of bhutanese writer, we owe so much to this book and to the most respected and beloved author, Ashi Kunzang Choden.
Books From Related Categories