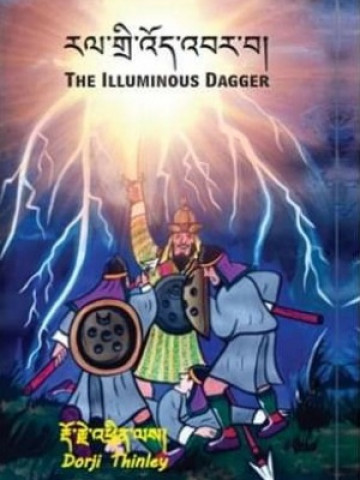 The Illuminuous Dagger
| | |
| --- | --- |
| Published In: | 2020 |
| ISBN: | 978-99980-911-0-8 |
| Category: | |
| No. of Pages: | 165 |
---
* Available in (book stores)
Megah Enterprise,
Book Overview
This story portrays one of the turbulent and revolutionary times of Medieval Bhutan, the novel unfolds against the backdrop of dirty politics, thirst for power, desire and greed, malice and hatred, bloodlust and war, medieval matrimonial culture, love and romance. It gives fair account of history of the ways and culture of medieval times in Bhutan.
---
---
Customer Reviews (4)
---
Dear Bhutanese,With all my cordial respect, I would like to pen down to write some brief words of expression about The Dzongkha Novel The Illuminunous Dagger.It was authored by Dorji Thinley. Trust me dear reader, the novel is more worth than its price. You won't regret of reading it..This book is so interesting and amazing. It will get you hooked the story. I am not huge fan of reading and usually get bored reading a book but I had different experience with this one. I was so into the story. The author did an amazing job writing this book and connecting with audience. You won't be disappointed!!! Buy and read it...
---
Title; "The Illuminous Dagger" is the classical fiction novel written by young writer (Dorji Thinley), who is one of the CLCS graduates and currently serving as a teacher under Mongar district. This novel morally portrays on matrimonial culture, love, romance, corrupted politics, thirst of power, greed, desire, hatred and war. It gives fair and clear idea on how powerful people used to treat the low class people in the past by landlords. Particularly, this book portrays on the origin and power of Khoches in kheng region. Thus, this book is very good for all the bhutanese people's who loves reading novels, who are bookworm can grab this opportunity to read it and those who aren't bookworm can also read it because it's in simple language and understandable to all. Therefore, I suggest to all the bhutanese nationals, and especially to our youths because we shouldn't let our national language go in vain.Though he was a young writer he could come up with good Dzongkha novel books with his selfless dedication, hardwork and undying effort in his passion. I found this book very interesting and meaningful, yet there room for improvement in your future books la. Hope to see your future books more soon on market.Lastly, I hope everyone can pay a deep and sincere gratitude to the writers by purchasing one book because reading and getting knowledge is the only way we can pay gratitude towards author's work.
---
A classic genre, this book tells an intriguing tale of meticulous blend of history, politics and romance from the medieval time of Bhutan. Written in a profoundly rich and eloquent Dzongkha language, the author greatly edu-tains us as he unfolds upon us age-old story to which a lot of Bhutanese can relate in terms of cultural traditions, values and many ways and means of life. This book is absolutely a great read! I particularly recommend this book to any passionate history lover.
---
A Dzongkha Novel, indeed the retelling of incidents happened centuries ago was written by one of the young Dzongkha Lopoens from remote Bhutan. The Novel is vocabularily rich and understandable by every Bhutanese although it contains numerous names which is often tough to remember. I would rather say if Dzongkha, the national language of Bhutan is not promoted by Bhutanese then, who else will dare to help promote Dzongkha? Therefore, I would like to recommend every enthusiastic readers and book lovers to kindly purchase one and get taste of Bhutanese Writers. Let's unanimously support in promoting Bhutanese literature.Happy Reading laa...
Books From Related Categories